by Catherine Reed Thureson, MA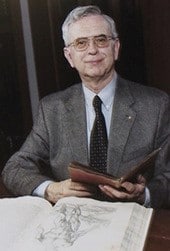 Richard (Dick) Eimas, former curator of the John Martin Rare Book Room, passed away on November 19th, 2020 following a battle with cancer.
Dick was the original curator of the John Martin Rare Book Room, a position he held from 1975 until his retirement in 2002. Dick was passionate about the Rare Book Room, and a valued colleague. He was also a respected supervisor who listened and supported the needs of those who reported to him.
He was the editor and primary contributor to the second and third editions of Heirs of Hippocrates, an annotated book catalog of the most important works in the Rare Book Room. This catalog is still regarded as an important reference work and source of authority by historians, book dealers and bibliophiles. He made purchasing decisions and supervised the expansion of the room, shaping the collection alongside Dr. John Martin, the Rare Book Room's original benefactor. He published numerous articles about works in the collection and gave presentations to a wide variety of audiences. He was an active member of the prestigious Osler Society.
Dick Eimas was bright, friendly and interesting, an asset to the library and to the Iowa community. Though he left the university nearly two decades ago, he will be missed.