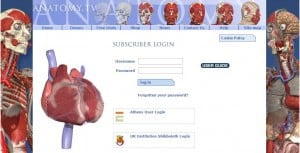 Hardin Library for the Health Sciences is excited to announce that Anatomy.tv is now available for our patrons!
Anatomy.tv is an internet-based anatomy tool provided by Stat!Ref which includes a complete set of 3D human models.
Anatomy.tv allows for manipulation and 360-degree rotation of virtual models, as well as filtering different layers of anatomical structure. Additionally, Anatomy.tv links to relevant text, clinical images, diagrams, scans, and videos. Supplementary information such as quizzes, MCQs, and patient information are all available for download.
To begin using Anatomy.tv, simply go to the Hardin Library website and select the tool from the Health Sciences Resources A-Z list.  Direct access is also available at http://purl.lib.uiowa.edu/AnatomyTV.
Please note that access to Anatomy.tv is limited to a set number of users, so if you encounter problems using this resource please feel free to contact Hardin Reference staff at 319-335-9151 or lib-hardin@uiowa.edu and we will provide assistance.