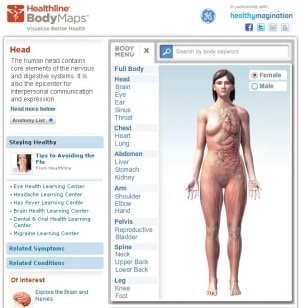 Following Google Body, BodyMaps (http://www.healthline.com/human-body-maps/) has joined the ever-expanding selection of online anatomical tools.
BodyMaps is a free, web-based, tool produced by Healthline.com, and allows for exploration of the human body in 3D.
Similar to other products of its breed, BodyMaps allows for full model manipulation and sectioning. In addition, various anatomical layers can be filtered and modified, just as in Anatomy TV or Google Body. One nice benefit is the huge number of videos and consumer resources that link directly from various anatomical structures.
Please note that Healthline.com is a commercial health-information provider, and one can wander into pay-for-resource areas of their website.
For more information about this, or any other health information resource, please contact Hardin Library at 335-9151 or lib-hardin@uiowa.edu!