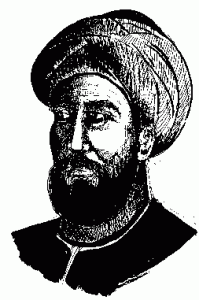 ABU AL-QASIM (d. 1013?). Liber theoricae necnon practicae Alsaharavii. [Augsburg: Impensis Sigismundi Grimm, & Marci Vuirsung, 1519].
Abu al-Qasim (or Abulcasis, or Albucasis, as he is variously known), a native of Cordova in Moorish Spain, may be classed with Avicenna in the importance of his great medical encyclopedia, al-Tasrif.
Kitab Al-Tasrif was originally published in 30 volumes in about 1000 CE, and then published in three parts after the invention of printing: the pharmaceutical part in 1471, the surgical in 1497, and the featured volume on general medicine, in 1519, edited by the Augsburg physician and printer Sigismund Grimm (fl. 1519).
The work was known to physicians and surgeons in the West as well as in the Muslim world.  This book describes haemophilia for the first time.
Abu al-Qasim al-Zahrawi is considered the most influential Arab surgeon to date and is considered the father of modern surgery.  More information about Abu al-Qasim Al-Zahrawi available from Muslim Heritage.  Arabic Wikipedia entry on Albucasis.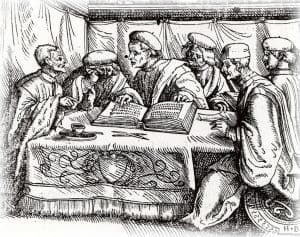 You may view this book in the John Martin Rare Book Room, Hardin Library for the Health Sciences. Make a gift to the Hardin Library for the Health Sciences by donating online or setting up a recurring gift with The University of Iowa Foundation.