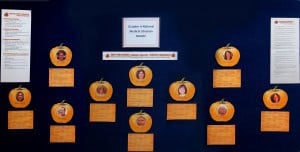 October is National Medical Librarians Month and Hardin Library is celebrating with a display in honor of our librarians. You can learn more about us, which departments we serve and our research and personal interests. The display is located to your left as you enter Hardin Library on the 3rd floor (Special thanks to Trish Duffel for providing a high quality photo).
You might be wondering what medical librarians do and what sort of training we have.  To list a few things, medical librarians have master's degrees in library science and participate in many continuing education classes and conferences. Many of them are certified through the Academy of Health Information Professionals (AHIP) and participate in scholarly activities such as publishing. In addition, librarians teach classes on evidence based practice, information literacy, mobile resources, publishing, and many other topics.  They also help to support clinical practice by assisting health care professionals with locating quality health information.
Medical librarians are part of the health care team, and a recent article in The Nurse Practitioner highlights some of the reasons why you should get to know your local librarian.
Newland, Jamesetta. (2012) Celebrating Medical Librarians. The Nurse Practitioner; 37(10): 5. http://proxy.lib.uiowa.edu/login?url=http://ovidsp.ovid.com/ovidweb.cgi?T=JS&CSC=Y&NEWS=N&PAGE=fulltext&AN=00006205-201210000-00001&LSLINK=80&D=ovft
This month, the Midwest Chapter of the Medical Library Association had their annual meeting. As you can see, Hardin Library has done a lot this year with regards to presenting and providing leadership roles in the organization.
Xiaomei Gu
Developing and Administering a Campus-wide Survey: A First Step in Assessing Data Management Needs (paper)
First Year Experience: Librarian as Instructor of a Pharmacy Practice Laboratory (poster)
Jen DeBerg
Exploring Value of Customized Tutorials for Remote Students (paper)
Growing Relationships: A Project to Reduce Hospital Noise (poster)
Kelly Thormodson
Growing from Within: From Art History to Urology – All liaisons Working Together to be the Best Team (paper)
Donna Hirst
The John Martin Rare Book Room as a Learning Resource (poster)
Janna Lawrence
2012 President of the Midwest Chapter of the Medical Library Association (elected)
Chris Childs
Recording Secretary of the Midwest Chapter of the Medical Library Association (elected)
In honor of National Medical Librarian month, we at Hardin Library invite you to stop in, get to know us, and find out what Hardin librarians can do for you.