The University of Iowa History of Medicine Society invites you to attend the first talk of the semester.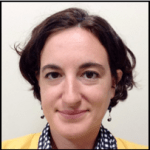 Jillian Linster, PhD candidate, English Department, University of Iowa
speaking on: Dr. Helkiah Crooke (1576-1648): The Historical and Literary Legacy of an Early Modern Physician.
Thursday, September 22, 2016, 5:30-6:30   Hardin Library for the Health Sciences, Room 401
Dr. Helkiah Crooke wrote the first comprehensive English anatomy manual. His book, Mikrokosmographia, was printed by William Jaggard, who also published Shakespeare's First Folio. But both Crooke's and Jaggard's careers were endangered by their decision to produce this controversial text, which made detailed medical knowledge available to the general public. A close examination of Crooke's career as an author and physician provides insight into shifting views on medical authority at a crucial point in the history of Western medicine.
Please consider donating online to the University of Iowa History of Medicine Society to sponsor events.
Individuals with disabilities are encouraged to attend all University of Iowa-sponsored events. If you are a person with a disability who requires a reasonable accommodation in order to participate in this program please call Janna Lawrence at 319-335-9871.