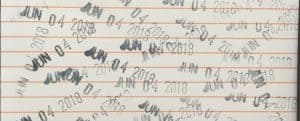 Books checked out by Faculty and Professional Staff  will be due on June 4, 2018.
Books checked out by Graduate or Undergraduate Honors students will be due on June 27, 2018.
You may renew books due in June 2017 so they will now be due in June 2018.  Renew online, or bring your books in-person to any University of Iowa Library.  If you have 5 books or less, you may also call us to renew at 319-335-9151 .
If you have questions about due dates or renewing materials, please contact Michelle Dralle by email (mailto:michelle-dralle@uiowa.edu) or by phone at 319-335-9876 .
If you would like to return materials by campus mail, please send them to:
Name: Michelle S. Dralle
Department: Hardin Library Returns
Building: 324 HLHS
If you would like to return materials by postal mail, please send them to:
Michelle S. Dralle
Hardin Library for the Health Sciences
600 Newton Road
Iowa City, IA 52242
USA