The eduroam wireless network is now available on the University of Iowa campus.
Devices that have been connected to UI-Wireless-WPA2 should still be able to connect to that network, but if you are connecting a new device you must use the eduroam network.
To connect a new device to eduroam:
1. Select UI-Wireless-Setup for automatic configuration
2.  Your username for eduroam must be formatted like this: hawkid@uiowa.edu.  You will use your Iowa HawkID password, not your Healthcare password.
This fall, the UI-Wireless-WPA2 network will be retired, and only eduroam will be available.  If you have accessed wireless on campus previously, ITS will send you an email with more details.
To connect a device to eduroam already configured for UI Wireless
1. Select eduroam as your wireless network.
2. Your username is hawkid@uiowa.edu.
Your password is your Iowa HawkID password.
Need more help?  See http://its.uiowa.edu/apps2/support/wireless or call the ITS helpdesk at 319-384-4357.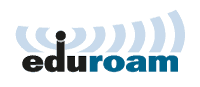 Why Eduroam?  eduroam is a worldwide network of colleges and universities that are collaborating to provide seamless wireless network access across institutions.  It will allow anyone from an eduroam participating university to access the wireless network at any other participating eduroam institution without having to worry about guest IDs or complicated configuration settings.  If you configure your laptop for access at Iowa, for example, then travel to the University of Illinois, you'll be able to access their network just as if you were here on campus. 
For more information about eduroam, including a map of available locations see:  http://www.eduroam.org/