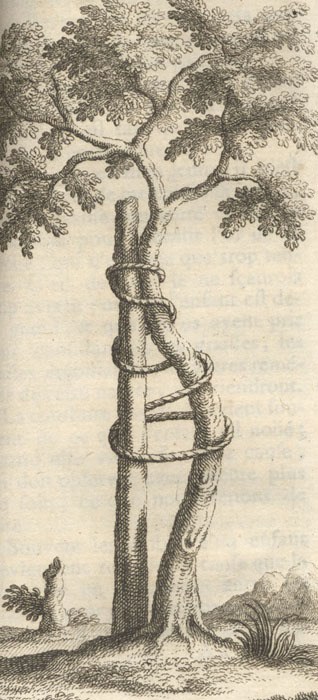 The simple image of a crooked tree splinted to a wooden pole is one of the most recognizable symbols in medicine.

Its first appearance was as an engraving in Andry de Bois-Regard's 1741publication,
L'orthop
é
die; ou, "L'art de pr
évenir et de corriger dan les enfans, les difformités du corps*

*Orthopaedia: or the Art of Correcting and Preventing Deformities in Children.
In naming his book, Andry (1658-1742) coined the word "orthopaedics."
Born in Lyon, Andry was a physician and administrator at the College of Medicine in Paris but was eventually forced to resign as dean because of his spiteful and irascible nature. Much of his scorn was directed at the barber-surgeons of his day whom he forbade to operate unless in the presence of a physician.
Andry's earlier and somewhat curious work on worms in humans (a book also in the Martin collection) while earning him the title of the "father of parisitology" in some circles, also prompted his detractors to label him the "worm man."
L'orthopédie is more overview than original. It includes sections on surface anatomy, postural and limb deformities and abnormalities of the head. The accompanying engravings give the work an added measure of charm.