An "Arsenal of Surgery"
Johannes Scultetus (1595-1645). Armamentarium chirurgicum. Ulm: Typis& impenis Balthasari Kühnen, 1655.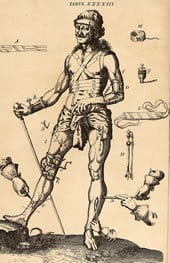 When Johannes Scultetus's Armamentarium Chirurgicum ("Arsenal of Surgery") was published, it was hailed as the first treatise on surgery to reflect the newfound rationalism of the 17th Century. While older authors had provided illustrated works on simple operations and devices (see: Hans von Gersdorff's, Feldtbuch der Wunderartzney), Scultetus looked at the world of surgery afresh in keeping with the "new science" of the age.
The lengthy case descriptions are written in great detail and include dates, places, operations performed, as well as follow-up notes that often cover several weeks. The descriptions made numerous references to the first part of the book which is devoted to surgical techniques and devices, lavishly illustrated with 43 copper engravings depicting a plethora of slings, bandages, braces, scalpels, catheters, as well as the use to which they might be put. Scultetus, who was town physician of Ulm, did not live to see his work printed; it was published ten years after his death by his nephew. However, the book became a standard reference source for nearly a century after it appeared.
The Armamentarium Chirurgicum can be seen in the John Martin Rare Book Room.
For more information about the John Martin Rare Book Room please visit the Web site at http://www.lib.uiowa.edu/hardin/rbr/.