Iowa Bibliophiles December Meeting
SOME 17th CENTURY TRAVEL AND GEOGRAPHY BOOKS
Refreshments 6:30PM — Talk at 7PM
Special Collections Reading Room — 3rd Floor Main Library
Travel back in time to see portions of the world as documented in richly-illustrated, large books published by John Ogilby between 1649 and 1675. The books include explorations of China, Asia, Japan, Africa, America, and Britain.
Arthur Bonfield will share his extensive knowledge about the books, John Ogliby, the printer, and the cultural context in which the books were produced and used. A description of Ogilby's methods of publishing, selling, illustrating, and distributing these expensive publications and their contents will be the focus of this talk.
This is a rare opportunity to view and closely examine these volumes, which are English translations of books published in Amsterdam by Jacob von Meurs. Ogilby's books appear to have been produced using plates from the original Dutch books—an interesting detail about which you'll want to hear more!
Please join us for coffee and light refreshments at 6:30 PM before the lecture at 7PM in the Reading Room of Special Collections on the 3rd Floor of the UI Main Library.
All are welcome and the lecture is free.
Individuals with disabilities are encouraged to attend all University of Iowa sponsored events. If you are a person with a disability who requires a reasonable accommodation in order to participate in this program, please contact the sponsoring department or contact person listed in advance of the event.
---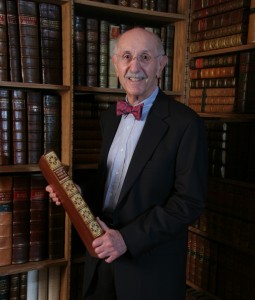 Arthur Bonfield is a Professor at the Iowa Law School and has been collecting books published between 1490 and 1800 for 60 years. He has collected about 1,000 books printed during that period and focuses his collecting on voyages, travels, and geography; English and European history; encyclopedias and dictionaries of the arts and sciences; political philosophy; and herbals.