By Denise Anderson, Archives Assistant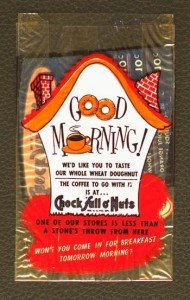 This bit of ephemera, this flattened Cellophane envelope, with its cheerful "Good Morning!" greeted me as I opened to page 41. I love that this colorful advertisement served as a book mark in Print, a journal of the graphic arts, for a library reader investigating "Lasansky and the Iowa Print Group," by Roy Sieber. This article about University of Iowa printmaker, Mauricio Lasansky, was published in January 1952.
Lasansky studied at the Metropolitan Museum of Art in New York under a Guggenheim Fellowship in 1943. The grant was renewed the following year, allowing him to study intaglio printing, a printing process for which he became famous. In 1945 Lasansky joined the faculty at the University of Iowa School of Fine Arts, where he founded the renowned Iowa Print Group. Professor Mauricio Lasansky retired in 1986 and died in 2012.
Please visit http://www.lib.uiowa.edu/scua/archives/guides/rg06/recordsoftheiowaprintgroup–universityofiowalibraries.html to learn more about the Iowa Print Group, which is regularly ranked by U.S. News & World Report as the top printmaking department in the nation.
A clue to the age of this advertisement is found at the website of the Chock full 0' Nuts Company. They charged $0.35 for a cup of coffee in 1955, while this bit of advertisement offers a cup for $0.10. This wrapper may have been put to use as a book mark shortly after the publication was bound in 1953, where it has made its home for more than 60 years.