Late October and November were filled with big events in Special Collections and the Iowa Women's Archives.
Iowa Bibliophiles 15th Anniversary, 11-8-2017
The November meeting marked the 15th anniversary of the group. In celebration, the evening's talk was given by Arthur Bonfield, who gave the inaugural Bibliophiles talk in November, 2002.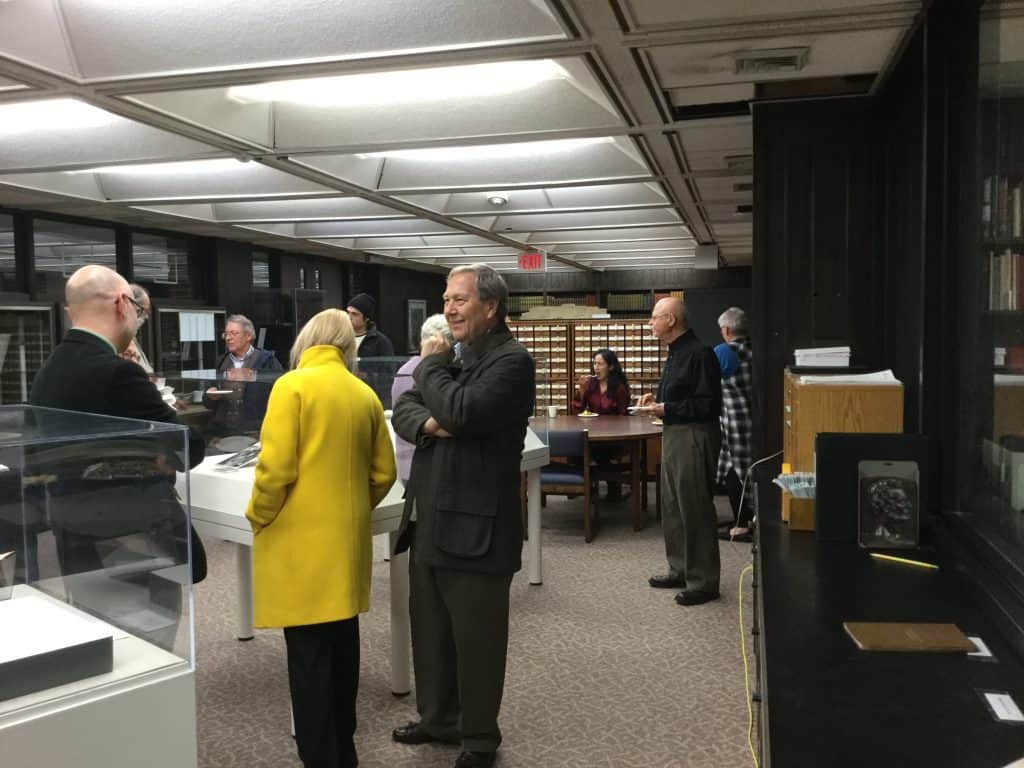 Iowa Women's Archives 25th Anniversary, 11-10-2017 – 11-11-2017
The Iowa Women's Archives celebrated their 25th anniversary with an open house, a gallery tour, a gala dinner, and a full day symposium.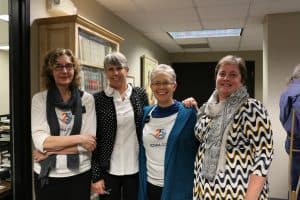 Teaching with Medieval Manuscripts
Teaching with Medieval manuscripts was a theme this month. Special Collections librarians and graduate student workers from the School of Library and Information Science all worked together to bring in all eight sections of the Medieval Art survey course Cave Paintings to Cathedrals (ARTH:1050:0A01).
Also this month Center for the Book faculty member Melissa Moreton partnered with librarians and graduate student workers to bring in two fifth grade classes from Horace Mann Elementary School to test a lesson teaching young students with medieval manuscripts.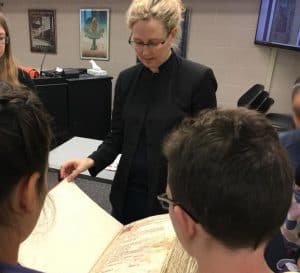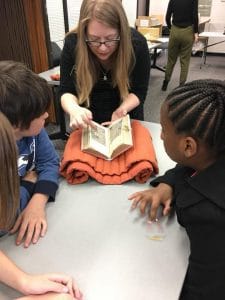 "Saving Brinton" Documentary Premieres in New York City, November 9-16th
The documentary "Saving Brinton" premiered at DOC NYC. The documentary features a collection of very early motion pictures that are now housed in Special Collections. See a selection online. The documentary continues to play at film festivals around the country before a wider release next year. More.
NBC Nightly News Films in Special Collections, November 30, 2017
NBC Nightly News filmed a segment about miniature book creator, collector, and donor Charlotte Smith, and School of Library and Information Science student Bethany Kluender who has cataloged one thousand of the tiny books. The segment will air sometime in the next month.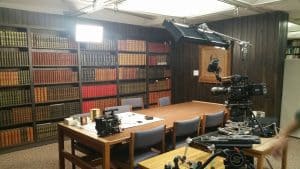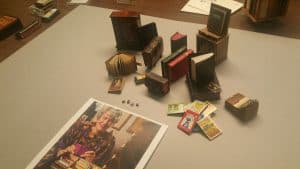 University Archives Acquires History of Hydraulics Lab Collection
The C. Maxwell Stanley Hydraulics Laboratory at the University of Iowa is one of the nation's leading fluids-related research centers. Established in 1920, it is also historically significant. Recently the University Archives acquired a set of daily journals maintained by the laboratory's first director, Floyd Nagler of the College of Engineering faculty. The typewritten logs document activity at the laboratory from 1921 to 1933, its first dozen years of operation. During this time, the laboratory was formally established as the Iowa Institute of Hydraulic Research (IIHR), and in 1932 ground was broken for the present-day structure on the west bank of the Iowa River.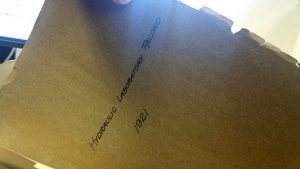 Here is Prof. Nagler's terse but turning-point entry from Tuesday, July 5, 1932:
"University Building Committee agreed to construct partitions in hydraulic laboratory addition. Contractor began excavation for foundation of laboratory."
The journals have been added to the Records of the Iowa Institute of Hydraulic Research (collection no. RG 10.0006.001) and are open for research. The Dept. of Special Collections expresses its appreciation to Dennis A. Hill for making this acquisition possible.
To learn more about IIHR's history, go to http://www.iihr.uiowa.edu/about/history/.
Andrei Codrescu's Papers Arrive
New Episode of Historically Yours Podcast
One From Our Social Media
https://www.instagram.com/p/BcDmg46DTDl/?taken-by=uispeccoll

"Freaky Friday" October Halloween Video Series on Facebook
Elizabeth Riordan, graduate student assistant in Special Collections and student in the Scho0l of Library and Information Science wrote and directed a Halloween film series for our Facebook premiering every Friday in October. Watch the whole playlist here: https://www.facebook.com/pg/uispeccoll/videos/
https://www.facebook.com/uispeccoll/videos/vl.156522105078668/1600728359950442/?type=1
---