Frank and Indiana Brinton from Washington, Iowa toured the Midwest starting in the late 1890s putting on shows with motion pictures. More than 30 years ago, Washington, Iowa history teacher Michael Zahs took in their collection of early film history and kept it safe for more than 30 years, donating the collection to the University of Iowa in 2014. As that process started, a documentary crew started following Mr. Zahs and created Saving Brinton, a documentary about "Two men, born a century apart, bound together by 20,000 feet of film and the gently rolling hills of Washington County, Iowa."
See selections from the collections, including a few of the only surviving copies of films thought lost, and selections of films that were colored by hand!:
https://brinton.lib.uiowa.edu/
And catch the film starting Friday at Film Scene in Iowa City.  Greg Prickman, head of Special Collections is there throughout the film, and you can catch glimpses of many other UI librarians and faculty in the film.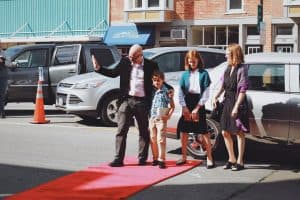 Read press coverage:
Watch the trailer for the film below: