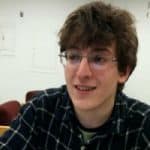 The third episode of Historically Yours is here and this time we're joined by School of Library and Information graduate student Ben Schmidt.
Ben reads a letter from Warren G. Harding responding to a request for a memorial for World War I.
Do you know anything about the movement to make a memorial? Or about Mrs. Henry F. Dimock?
Type in the comments, email us colleen-theisen@uiowa.edu or write to us:
Colleen Theisen
Special Collections
100 Main Library
Iowa City, IA 52242
See the letter below: