Important Announcements:
The Iowa Women's Archives will be closed May 16-27th for painting.
Newsfeed:
The University of Iowa School of Library and Information Science and the Center for the Book made a video advertising their dual program called BLIS. Special Collections staff members Peter Balestrieri and Lindsay Moen, both graduates of SLIS, are featured in the video along with Andrea Kohashi, a former Olson Graduate Assistant, and many other familiar faces from around the UI Library system. You can even get a peek into one of our class sessions in action!
Upcoming Events: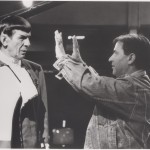 Nicholas Meyer
Friday, May 20 at 6:30pm to 8:00pm, University of Iowa Main Library, Shambaugh Auditorium 125 West Washington St. Iowa City
Meyer will deliver a brief talk, titled The Last Man To Understand Anything.
There will be a Q&A session afterward.
Free and Open to the Public
More details on the University Calendar.
New Acquisitions:
The feminin' monarchi', or, The histori of bee's, 1634. The music is half upside down so the singers can gather around.
https://vine.co/v/i27jrixlpZv
A Parting Shot:
---
Donate to the University Libraries' Special Collections Fund
Want to stay connected?  Follow us on social media: