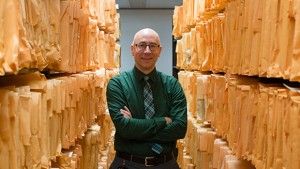 Greg Prickman, head of Special Collections at the University of Iowa Libraries, was honored March 31 with the 2015 Arthur Benton University Librarian's Award for Excellence.
The Arthur Benton University Librarian's Award for Excellence recognizes a member of the UI Libraries' professional staff who has demonstrated outstanding commitment and leadership in furthering Libraries' mission serve the University community.
The honor includes a $1,500 award for professional development that will support the recipient's research projects or publications related to library services. This award was made possible by an endowment from Dr. Arthur Benton, Professor Emeritus in the Department of Neurology, University of Iowa Hospitals and Clinics.
In letters of support for this award, the selection committee noted Prickman's commitment to furthering the Libraries' role in the University's academic mission, as well as his professionalism and responsiveness to researcher needs.
Timothy Barrett, Director of the University of Iowa Center for the Book and Associate Professor in the UI School of Library and Information Science, nominated Prickman for the award. Barrett notes that Prickman's work "resulted in the UI being selected as the site for the Folger Shakespeare First Folio traveling exhibit. Greg's leadership shines in the midst of a complex but very promising event for the UI Libraries, all participating units, and the UI overall."
Prickman also earned praises from Adam Hooks, Assistant Professor of English, who notes a climate of accessibility that Greg has created for scholars.
"Greg's vision for the library has transformed the learning experience for students at the University of Iowa," says Hooks. "Thanks to the significant digital projects sponsored by Special Collections, the intellectual and material resources at Iowa are accessible to students around the world." Prickman was the catalyst for the Civil War Diaries Transcription Project that led to crowdsourcing platform DIY History, and he is the creator of The Atlas of Early Printing.
 Jennifer Burek Pierce, Associate Professor in the UI School of Library and Information Science, writes of Prickman's ability to empower his staff to assist researchers. Burek Pierce notes that "those with whom we work in Special Collections clearly feel empowered to do their best work, to look for interesting and new ways to connect with users. As the head of Special Collections, Greg is instrumental in allowing this to happen, in the example he sets, in his development of responsive policies, and in hiring."
The Arthur Benton University Librarian's Award for Excellence Award is given annually. Past recipients include Kari Kozak, Jen DeBerg, Dottie Persson, John Forys, Edward Miner, Kathy Magarrell, Kären Mason, Dave Martin, and John Schacht.
Please join us in congratulating Greg Prickman!