Have you been searching for a good book with which to spend Valentine's Day? Want to use your card game skills to attract a mate? Looking for a rare book to discuss over dinner with that special someone? If you answered yes to any of these questions, then you should stop by the UI Main Library this week to check out some of our Valentine's Day events!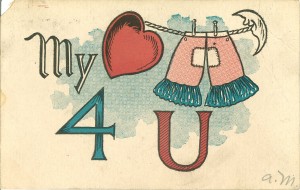 Play with Hearts–Tuesday, February 10th
12:00pm-2:00pm
Come to Group Area D (across from Food for Thought Café) to learn how to play the game, Hearts. You can also enjoy some vintage baked goods made from recipes from special collections' historic recipe collection. There will even be recipes available for you to plan your own Valentine's meal!
Blind Date with a Book–Wednesday, February 11th
12:00pm-2:00pm
Stop by Group Area D to check out a book. But this time, there will be no judging by the cover. We'll set you up with a blind date that you get to take home with you for some Valentine's reading. A Spinster's Tale or Love in the Time of Cholera: Which one will you take home tonight?
Love in the Stacks—Thursday, February 12th
12:00pm-4:00pm
Drop into Group Area D and we'll help you out with some Valentine's gifts! View items from the University of Iowa Special Collections and University Archives while you make buttons from prints of our more romantic books, or send an e-card to your loved ones.
You never know where love will find you, but you do know where to find us. We'll see you in Group Area D!