What follows is a guest post from one of our student workers, Shawn Conley, an Eagle Scout and Boy Scout memorabilia collector.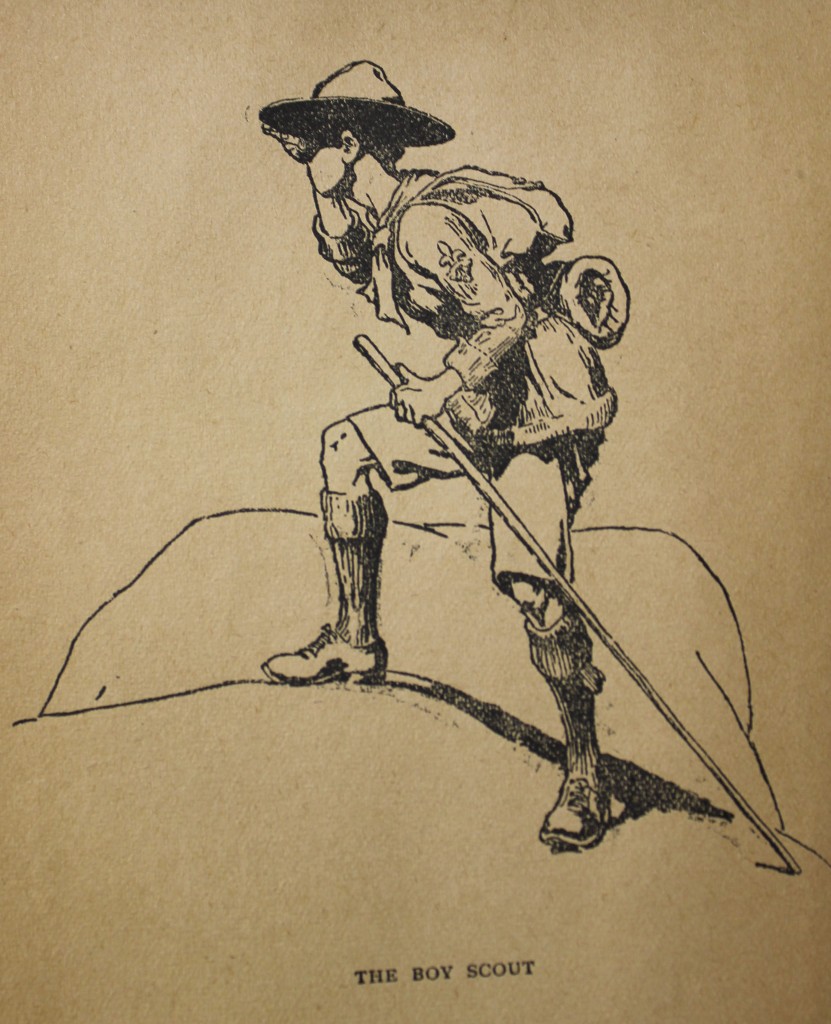 Since its founding more than a century ago, the Boy Scouts of America has striven to turn young men into well-rounded individuals and citizens of our society. Lord Baden-Powell, the founder of the original Boy Scouts in England, expressed the need for proper handbooks for the young scouts to use as a way of learning and becoming familiar with skills they would find useful. From how to escort a lady down the sidewalk to how to splint a broken leg, the Boy Scout handbook purveyed basic information and skills in handicrafts, first aid, castrametation, and moral values.
| | | |
| --- | --- | --- |
| | | First Aid is a major topic covered in every handbook. ("Boy Scout Handbook", 1965). |
If one wanted to research the changing American culture from the early 20th century to the modern day, the handbooks of the Boy Scouts are a wonderful resource in deducing what the founders of the Scouting movement thought worthwhile for Scouts to know in turning them into productive citizens. Culture of the time-period is engrained into these handbooks. For example, during the Second World War when material rationing restricted what average Americans could purchase, the Boy Scouts produced uniforms of a less expensive, tan cotton canvas. These canvas uniforms are shown in the handbooks and how to properly sew on badges and insignia.
Upon examining Boy Scout handbooks of an earlier time, one might notice that very few are in excellent condition. These books were meant to be used, and used they were. From the author's own perspective, his handbook was in tatters by the end of his Scouting career.
Why is the Boy Scout handbook so important? The handbook was, and still remains to be, the Scout's greatest point of informational reference. Forgot how to tie a Clove Hitch? Consult your handbook. Can't recall how many leaves a sprig of Poison Ivy has? The handbook knows! From how to properly swing an axe to properly cooking for your Patrol or Troop, the handbook strives to give Scouts the information they need to carry out skills necessary for being a good Scout. This aspect is as true now as it was 103 years ago.
| | | |
| --- | --- | --- |
| "Scouting for Boys" by Lieut.-Gen. Sir R. Baden-Powell, K.C.B. (1910) | | |
Perhaps more importantly, the handbook was a moral compass. Some sections of the handbook are geared specifically towards showing Scouts how they can be a positive influence on their communities. Some early examples of how Scouts influenced their communities was promoting and selling war bonds during the Great War and the Second World War, and conducting metal drives by going door to door and asking people for any scrap metal that could be melted down for the war effort. In the 21st century, helping the community can be something as simple as a food drive, which many Boy Scout troops across Iowa conduct every year. Therefore, the handbook was not only a reference for physical skill building, but also mental and moral skill building.
The Special Collections department has a very nice Scouting collection, much of it about Scouting in Iowa. The collection also has a few early handbooks from both the Boy Scouts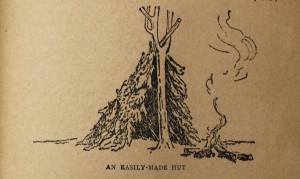 and Cub Scouts (All photos in this post were derived from the handbooks in Special Collections). Stop on by and have a look. The author guarantees that in reading just a few pages, you'll learn something totally new. Perhaps you can read up on how to properly escort a lady down the sidewalk (the man/Scout always walks on the woman's side facing the street), or perhaps you can familiarize yourself with how to splint a broken leg or cook pies in a Dutch oven.
The handbooks of the Boy Scouts of America are truly a wonderful reference to anyone wanting to learn how to "Be Prepared" and to "Do a Good Turn Daily".
– Shawn R. Conley