In Of Gardens, Francis Bacon praises gardening as "the purest of human pleasures; it is the greatest refreshment to the spirits of man […]." Having just moved here from Bozeman, MT, and left my garden behind to start the Library and Information Science master's program, I have been sorely missing the simple pleasure of watching something grow. The jar of green onions growing on the windowsill of my basement apartment window does not seem to refresh my spirits in quite the same way as Bacon intended. He says that only a 30 acre garden will do—clearly, Bacon never had to live in a basement apartment. So while the corn continues to grow to as high as an elephant's eye and squash vines consume other people's backyards, I have decided to scour Special Collections for gardening books in order to vicariously experience "the purest of human pleasures."

During my search, I chanced upon Claire Lawson-Hall's diary of a single year of gardening. She has separated her story by season: A Spring Garden (1999), A Summer Garden (1999), An Autumn Garden (2000), and A Winter Garden (2001), illustrated by Muriel Mallows and printed at The Alembic Press, Marcham, UK. The design of each miniature evokes the season Lawson-Hall chronicles.
In A Spring Garden she describes the progress of her garden February through May. The blackbirds, starlings, and robins have all returned and set up various camps. The bulb flowers are blooming and ladybirds(bugs) have made an early appearance. Like every other gardener Lawson-Hall must battle snails and weeds, although I have to disagree with her unfavorable opinion of dandelions—dandelion wine and salads are delightful! The pages of this book are folded like a cootie catcher and they spring open much like the flowers in her garden. When the book covers are tied together there are beautiful floral designs on either underside.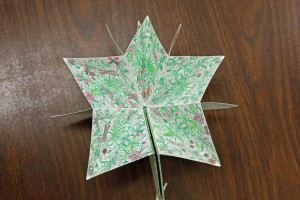 May through August summer returns and swallows take center stage in her narrative. Lawson-Hall describes their nest making and the birth of the first set of chicks and their departure. Her orchard is in bloom and volunteer poppies have sprung up on the edges of the garden. In August she worries about drought, like most of us now, and hints at the first signs of autumn. To me the design of this book conjures the image of wandering around her garden as the text winds from vertical columns to horizontal and back again. I love the final image where we can see Lawson-Hall doing battle with the valerian.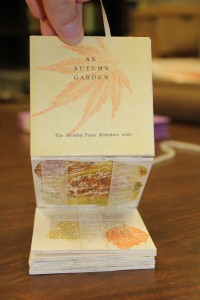 In autumn the last of the swallows leave and September through November Lawson-Hall focuses on preserving her harvest and making jams. Hedgehogs mosey about the property and mowing the lawn and raking leaves are given constants in this season. This book design might be my favorite. It works like a Jacob's ladder and the pages tumble down and become disarranged when I try to figure out the best way to read her diary. I think this is her cleverest representation of a season; the descending pages perfectly represent the falling leaves. Where the other illustrations are colored by watercolors, this book features real fall leaves stamped onto the squares of cardboard.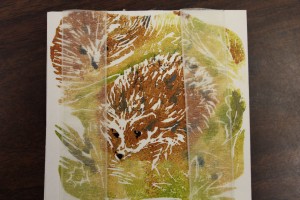 Lawson-Hall admits that winter is her least favorite season, perhaps this distaste accounts for her own tardiness when planting her broad beans and garlic. The unassuming design of this miniature also suggests that she was less inspired by the season, but I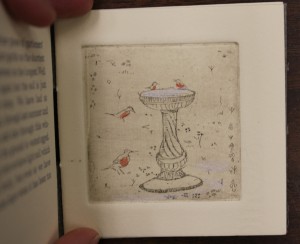 think it mimics winter quite well. The book is bound as a codex (curiously 2 gatherings have been bound out of order in our copy) which creates a more static feeling rather than the active unfolding, turning, or picking up motions involved with reading the other three works. This more passive reading conveys to me a sense that the reader and author have moved indoors and that we are no longer rambling through the garden. The illustrations this time bear heavy plate marks which give the impression of looking through a window pane at the flora and fauna outside.
If Bacon read these little books, I am sure he would change his view that pleasure from a garden can only be derived if experienced by wandering through 30 acres or more of land. These 3x3in. books take the reader on a memorable and tactile journey. Now I am inspired to expand my windowsill garden from just green onions in a jar to maybe some kitchen herbs too—then I will have an excuse to create my own cute garden books.