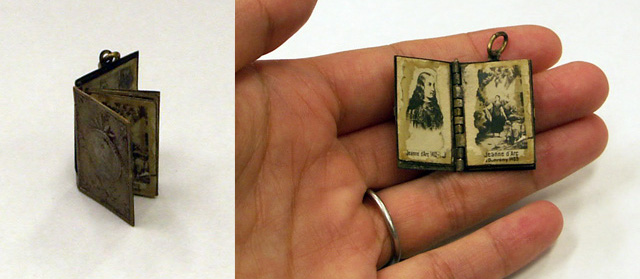 Do you remember the Sesame Street song lyrics "One of these things is not like the other one of these things just doesn't belong"?  Today's post was inspired by the song, though I'm inclined to agree with the first part of the statement and disagree with the latter.  Yes, these things are not like the others, but they certainly belong!  They were all found in the stacks of Special Collections and University Archives.  While most of our collections are comprised of printed books, images, papers, and ephemera, there's an occasional surprise tucked away in a box or file folder.
I've selected a few items that struck my fancy.  They all happen to be miniature versions of something:  dining furniture, books, paper mills, for example.  Some of the objects are considered artist's books, some are parts of books, and some are just objects.
Dard Hunter:  Miscellaneous Thoughts and Reflections, text by Dard Hunter, case and books by Robert E. Massmann.  The paper used to construct the mill-shaped case and the small books came from Hunter's handmade paper mill in Connecticut.  The case is a replica of the mill which remained in use from 1928 till 1931, and the two small books (volumes I and II) document thoughts, quotations, and paper samples from Hunter.  The books themselves are miniature artifacts that fit below the three dimensional model of the mill.    For more information on Dard Hunter visit http://www.dardhunter.com/.
x-Collection – TS1098.H8 A25 1984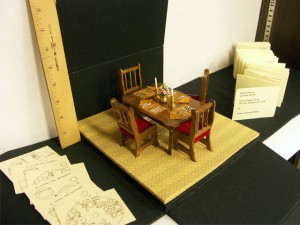 Butter Knives and Fish Forks: With Guidance From "The New Setting Your Table" by Annie Tremmel Wilcox.  This artist book is a true surprise.  The dining room set, with a perfect table setting replete with candles and flowers, is housed inside what looks like a relatively traditional book box.  Along with the dining room set, a small accordion structure includes a narrative reflecting on table-settings, traditions, and growing up.  There are also small cards which show exemplary place-set tables.
From the Szathmary Collection – N7433.4.W52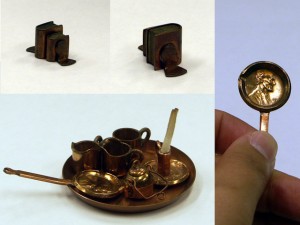 Judge James Willis Bollinger collected as many Lincoln related items as he could.  Lincoln was a passion of his, and though his collection focused on books and pamphlets, he also managed to collect a wide array of objects relating to Lincoln.  Included in his non-print materials are small penny sculptures.  There is one in particular that would fit right in on the dining table from above:  a tea and food service tray.  Also of interest are the miniature books with Lincoln penny head bookends.
From the James Wills Bollinger Papers – MsC0036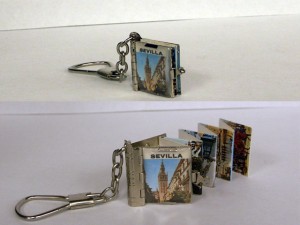 And finally, since this post features miniature, I can't leave out items from the Charlotte M. Smith collection of Miniature Books.  Many of the diminutive books in the Smith Collection are lengthy and readable works, but the ones selected for today were meant as charms and key chains.  There are several souvenir metal book-shaped key chains that house small accordion images from international cities.  Come check them all out!  The book charms with metal hinged "pages" are of particular interest as well (first image above).
From the Charlotte M. Smith Papers [Charlotte M. Smith Collection of Miniature Books] – MsC457
Though not featured today, we also have objects of the non-miniature variety including bagpipes, films, sculptures, and much more dispersed among our archival and collections materials.