Students from Professor Loren Glass' English/UI Center for the Book course Literature and the Book: The Paperback Revolution are using materials from Special Collections this semester to uncover the impact of paperback books on twentieth century American literature and culture.  As they do, we are uncovering some hidden treasures of the paperback revolution in the stacks.
Despite the ubiquity of the paperback book throughout much of the twentieth century, paperbacks are typically an understudied book format, mostly getting attention for sensational cover art. However, many intriguing aspects of the paperback revolution beyond cover art  are illustrated throughout our collections.
Here are some highlights:
A Tree Grows in Brooklyn, Betty Smith. New York: Council on Books in Wartime, 1943.
(Armed Services edition ; D-117) x-Collection PS3537.M325 T7 1943b
Armed Services Editions, printed from 1943-1946 for American soldiers during World War II, are notable for their unusual horizontal format. They were printed two at a time on magazine presses and then cut in half horizontally, resulting in an oblong book. The text is also printed in two columns per page.This copy of Smith's novel was published as a hardcover first edition by Harper & Brothers in 1943, the same year the Armed Services Edition was published. Our copy is worn, and the glue holding the cover on has detached so you can see the large staple that is the only things holding the pages together. Did this book travel to Europe or the Pacific tucked in a soldier's cargo pocket?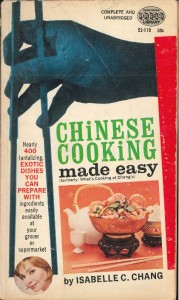 Chinese Cooking Made Easy, Isabelle C. Chang. New York: Paperback Library, Inc. 1961. Szathmary TX725.C514 1961
There are many paperback cookbooks in the Szathmary Culinary Collection, including this Chinese cookbook, the first paperback edition of What's Cooking at Chang's? (renamed in paperback). The low cost and accessibility of paperback cookbooks made a broader range of recipes and techniques available to a large audience – in this case, "tantalizing, exotic dishes you can prepare with ingredients easily available at your grocer or supermarket."  Paperbacks from the 1950s-70s in the Szathmary collection range from microwave cooking to wine to recipes from all over the world.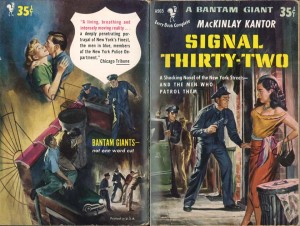 Signal Thirty-Two, MacKinlay Kantor. New York: Bantam Books, 1952. Iowa Authors Collection
One of the benefits of our Iowa Authors Collection for book historians is the opportunity to look at multiple editions of a single title, including paperbacks. Webster City native MacKinlay Kantor was a prolific journalist and novelist. This "Bantam Giant" paperback edition of his novel Signal Thirty-Two fits the stereotype of a mid-twentieth century paperback with its dramatic cover art, but other characteristics of the book indicate a desire to represent a "quality" not always associated with paperbacks, especially in the 1950s when they were still a relatively new format. The slogans "Bantam Giants – not one word cut" and "Every Book Complete" emphasize that the paperback, while physically smaller, is not an abridged version of the hardcover original. Signal Thirty-Two's title page stretches across a spread, showing attention to innovative graphic design, and the text ends with a solicitation from the Bantam paperbacks editor for reader input and recommendations.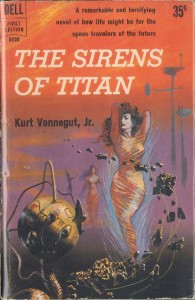 Sirens of Titan, Kurt Vonnegut. New York: Dell, 1959. x-Collection PS3572.O66 S47 1959
Our ever-growing science fiction collections include many paperbacks, as much of that genre was first or only published in the ephemeral and cheap paperback format. One particular gem is the first edition of Kurt Vonnegut's second novel, Sirens of Titan. Though Vonnegut is now recognized as an important an influential American author, in 1959 this first edition was pocket-sized, printed on cheap paper, and sold for 35 cents.
This book, as well as some other exciting paperbacks from our collection, will be on display in our pop-up case. Come check them out!