This week the University of Iowa Libraries is pleased to announce the acquisition of the James L. "Rusty" Hevelin Collection of Pulps, Fanzines, and Science Fiction Books. The original press release can be viewed here.
Rusty Hevelin passed away on December 27, 2011 after an illness. He was a science fiction fan, pulp collector, huckster (a dealer at conventions), and voracious reader for most of his 89 years. He hitchhiked to his first science fiction convention in Denver in 1941. The convention was called Denvention, and it was the third World Science Fiction Convention (the cons known as World Cons). He was the Fan Guest of Honor at Denvention 2 in 1981, and was a presenter at the Hugo Awards ceremony at Denvention 3 in 2008 (photo below from Keith Stokes).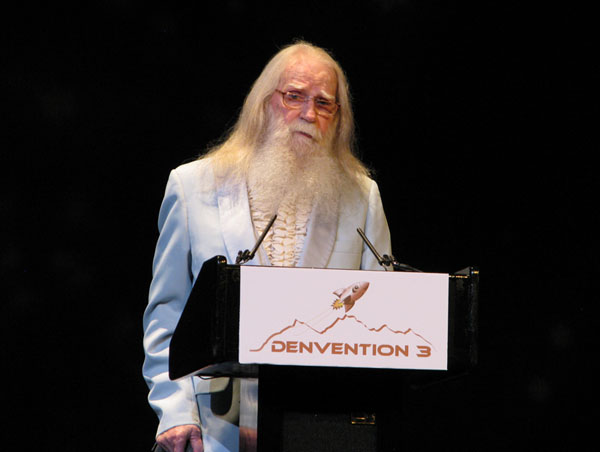 To get a sense of what Rusty's collection is like, it is helpful to get a sense of what Rusty himself was like. Those who knew Rusty were always impressed by his remarkable memory, and his many years as a science fiction fan made him the stereotypical "walking encyclopedia" of fandom. His early years as a fan, convention attendee, and fanzine writer and publisher were spent in the company, and often personal friendship, of great science fiction writers like Robert Heinlein, Ray Bradbury, Isaac Asimov, Frederik Pohl, Lester Del Rey, and many others. He witnessed the evolution of fandom, the adoption of science fiction by mainstream entertainment companies, and many other changes over the course of his lifetime.
There are several sources online for more details on Rusty's life:
Interview in Transformative Works: link
Obituary at File 770: link
Gay Haldeman's bio of Rusty for the Demicon 20 program book: link
Rusty's collection is now here at the University of Iowa, but Rusty's connections with the state go back much further. He was one of the founders of the state's two ongoing science fiction conventions, Icon in the Iowa City/Cedar Rapids area, and DemiCon in Des Moines.
We will be highlighting many of the interesting items in the collection in the months (and likely years) to come as we begin to unbox and process the collection. Watch this space for future announcements, and also keep an eye on our Facebook and Twitter pages. You will also soon be able to subscribe to our upcoming email newsletter.