We are commemorating the 70th anniversary of the U.S. entry into World War Two by highlighting some items in our collections relating to this event.  Library and Information Science graduate student Katherine Wilson's exhibition at Special Collections & University Archives brings the Iowan war effort to life.
How did the University of Iowa and ordinary Iowans respond to the coming of World War Two to America?
Jackson Lester Hyde of Cedar Rapids, Iowa, enlisted in the U.S. Army in 1942. Hyde was first stationed at Fort Custer, Fort Knox, Fort Benning, and Camp Gordon. A technician fourth grade, he was trained as a radio operator in the 210th Armored Infantry Battalion, 10th Armored (Tiger) Division, U.S. Army. After being shipped overseas in late May or early June of 1944, Jackson L. Hyde, served in France, Belgium, and Germany, surviving the grueling Battle of the Bulge. Hyde was killed in action, March 2, 1945, presumably at Trier, Germany. He was posthumously awarded the Bronze Star "for heroic achievement in connection with military operations…at Noville, Belgium during the period 19 – 20 December 1944," and the Purple Heart for the wounds resulting in his death. Hyde's Purple Heart, division indignia, and other objects from his service are featured in Katherine's display.
The University of Iowa responded to the U.S. entry into the war by strengthening its existing programs and launching new initiatives to help the war effort. In addition to its Department of Military Science, the University opened one of the nation's first U.S. Navy pre-flight training schools.
In addition to training men, the University of Iowa community also offered chances for women to help in the war effort. "War Time Services Open to Women Students" included Red Cross nursing and volunteering in hospitals, being office workers and makers of signs, helping with war bond drives, and hostessing at the U.S.O. and troop recreation events.
A UI student organization envisioned the war effort and the future in their promotional poster featured in Katherine's installation: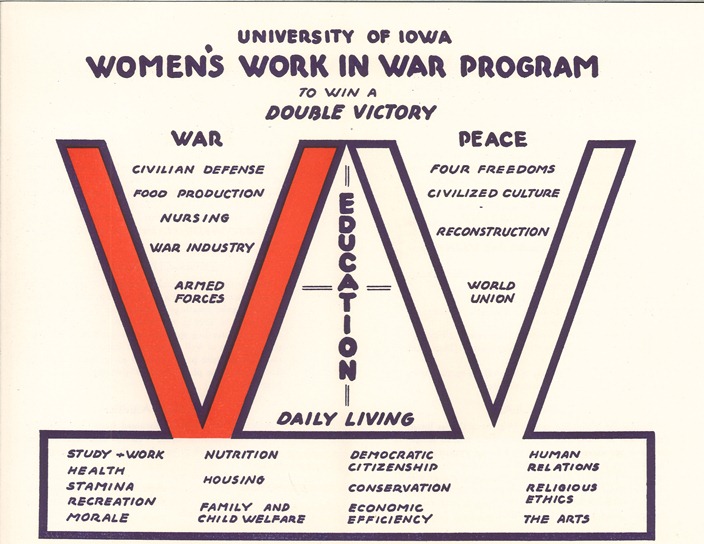 As nation wide rationing was introduced in the United States in 1942, housewives were hard pressed to make do with limited amounts of food ingredients like sugar, meat, cheese, and margarine. Food companies and the U.S. government published recipe pamphlets to help families make ample and nutritious meals from these rationed resources. Our Szathmary Collection of the Culinary Arts features many such pamphlets in addition to cookbooks and manuscripts. Katherine's display used this one: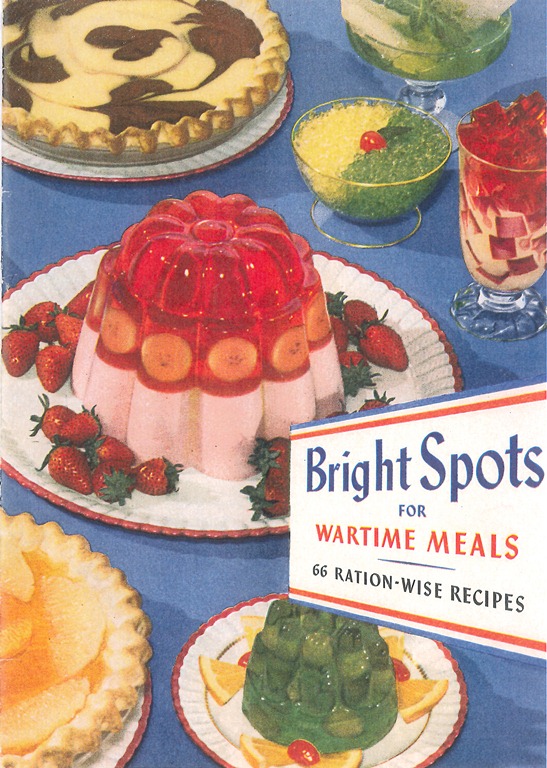 In wartime America, millions of women were encouraged to step up and work in the factories and industries that men had to leave to serve in the military. This was a major economic and social revolution, and the implications were not lost on the people of Iowa. In 1943 editorial cartoonist J. N. "Ding" Darling published in the Des Moines Register  a picture titled "Letting the genie out of the bottle." Darling is oubviously apprehensive of the newy found economic and social power of women.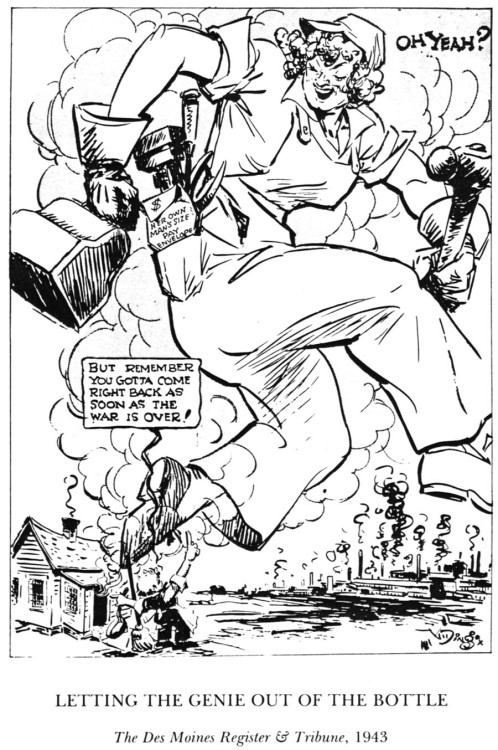 Special thanks to Katherine Wilson for putting together a display about the wartime experience in Iowa. Please come and check out her installation on the 3rd floor of the UI Main Library.
For a description of our collection of the papers of Jackson Hyde, go to
http://www.lib.uiowa.edu/spec-coll/MSC/ToMsc450/MsC422/MsC422.htm
For a description of our collections about military and wartime service at the University of Iowa, go to
http://www.lib.uiowa.edu/scua/archives/guides/RG28.01.htm
For the digitized part of the Szathmary Culinary Arts collection, please go to