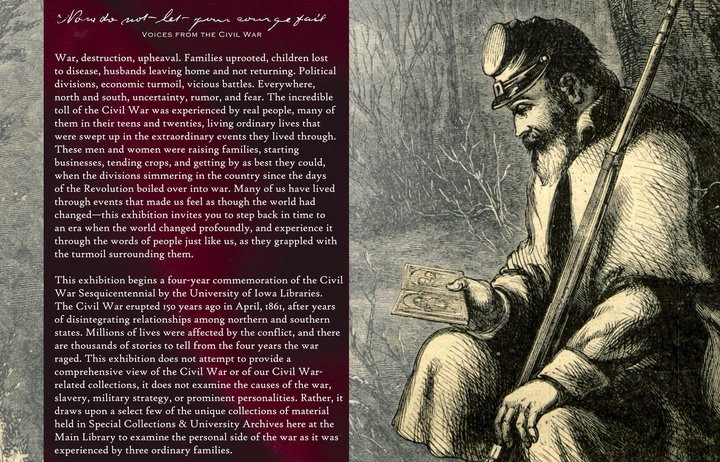 University of Iowa News Release
May 5, 2011
http://news-releases.uiowa.edu/2011/may/050511libraries-civilwar.html
University of Iowa Libraries has launched a new exhibition and digital collection to commemorate the sesquicentennial of the Civil War, and it's enlisting the help of a few good men and women (well, lots, really) to help make the collection even more accessible and useful.
The exhibition, "'Now Do Not Let Your Courage Fail': Voices from the Civil War," on display at the UI Main Library through July 30, includes letters and diaries from three manuscript collections held by Special Collections & University Archives that offer intriguing perspectives on the war. The experiences of Ferdinand Winslow, an officer in the Union army; Thomas Rescum Sterns, a soldier in the Union army; and Amanda and Mary Shelton, nurses who cared for soldiers through the Christian Commission, bring to life the everyday reality of the conflict.
Accompanying these manuscripts are artifacts from the war, including two Civil War-era quilts from a private collection and a dress worn to a wedding that is on loan from the Kalona Quilt and Textile Museum.
While viewing the exhibition in person, visitors can access digitized versions of the letters and diaries by scanning codes under each piece. This allows viewers to see pages from these collections that are not on display and follow the stories told through the letters.
The digital collection, which was scanned by UI Special Collections & University Archives, is also available online from any computer through the Iowa Digital Library at http://digital.lib.uiowa.edu/cwd.
But the 3,000-plus diaries and letters are digitized images — effectively photographs — that require viewers who want to read them to interpret the handwriting of hundreds of different writers. It also means users cannot search the text for particular words or phrases.
To transcribe that much documentation could take decades and thousands of dollars. But UI Libraries is experimenting with "crowdsourcing," or collaborative transcription of manuscript materials, in which members of the general public with time and interest conduct the transcription and check one another for accuracy in much the same way contributors to Wikipedia help create a collection of data, information and knowledge.
"Crowdsourcing is revolutionizing the study of the humanities by making available to the public and scholars miles of documents that were previously off-limits, difficult to read or unsearchable," said Nicole Saylor, head of Digital Library Services.
UI Libraries is inviting volunteers to take a few minutes, hours or days to read and help transcribe some of the pages of a Civil War-era diary, which will not only benefit the library and patrons, but give crowdsourcing participants a glimpse into a more personal side of one of American history's most significant events. To learn more about this opportunity, visit http://digital.lib.uiowa.edu/cwd/transcripts.html.
To be the first to receive updates  about our programming and holdings, please "like" our University of Iowa Special Collections & University Archives page on Facebook: https://www.facebook.com/uiowaspecialcollections