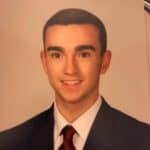 Congratulations to student assistant Joe Opferman, who is receiving a Bachelor of Business Arts in Accounting, May, 2021!
Activities During Undergraduate
I was a proud member of Pi Kappa Alpha Fraternity. I sat on the Treasury Committee to help the fraternity maintain their budget. I also sat on the Philanthropy Committee to plan fund raisers for local charities.
Future Plans
After graduation I plan to intern for an accounting firm known as PricewaterhouseCoopers(PwC) in Chicago, Illinois as an Audit Intern. Following the internship I will return to The University of Iowa to receive my Masters' of Accountancy. After receiving my masters degree, I plan to sit for the CPA exam. Following the exam, I hope to work for a public accounting firm full-time.
What Joe Enjoys About Hardin Library
Hardin Library has the kindest staff and co-workers. Each day I was happy to have conversations with co-workers with different majors, areas of expertise, and backgrounds. The staff were very accommodating to my busy schedule for the three years I worked here. They knew that being a student came first and were always willing to work with me to further my knowledge. I truly enjoyed the research projects as they served as fantastic resume builders, starting early on in my college career. Although I plan to return in the fall, Hardin Library has been a fantastic place to work during my undergrad.