UGO BENZI (1376-1439). Expositio super libros Tegni Galeni. Venice: Bonetus Locatellus, for Octavianus Scotus, 1498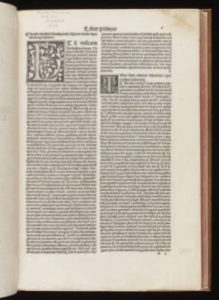 Benzi, also know as Hugo of Siena, initially studied philosophy and medicine at the University of Siena. He completed his doctorate at Pavia in 1396 where he remained on the faculty until 1399.
During his subsequent academic career, he held major teaching positions at Bologna, Padua, Florence, Perugia, and Ferrara. Benzi enjoyed a great reputation as a physician and teacher of anatomy, medicine, and philosophy. One of the best interpreters of the ancient medical writers, he wrote commentaries on Hippocrates, Galen, Avicenna, and others.
In Expositio super libros Tegni Galeni, he presents his observations on Galen's Tegni or Ars medica, a leading medical text of the Renaissance. Benzi's work indicates that although illnesses were classified in relation to major body parts or organs, there were no concepts of localization or specificity as assumed since the early nineteenth century. Illness was described primarily in terms of the "complexion of the humors" rather than of any specific disease. Hence there was no diagnosis in the modern sense. Nor were the elaborate drugs prescribed of any value other than palliative, although the suggested regiment of the "non-naturals" (personal hygiene) was often sensible. (Richard Harrison Shryock, The American Historical Review, Volume 58, Issue 1, October 1952, Pages 92–94, https://doi.org/10.1086/ahr/58.1.92)
Complete Latin text available online from Iowa Digital Library
You may view this book in the John Martin Rare Book Room, Hardin Library for the Health Sciences.