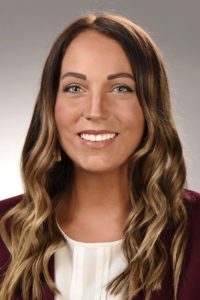 Congratulations to Hardin student assistant Kayla Erps on your graduation!
Awards
Edward H Karl Achievement Award
Brian Stone Memorial Award
Activities During Dental School
Dental School Philanthropy Chair
Lots of volunteerism: Free Dental Clinic, Special Olympics of Iowa, Special Olympics Unified Partners, Best Buddies International, Habitat for Humanity, Ronald McDonald House, JOPPA Outreach, Shelter House, and more! Clubs: Dental Public Health Club, Pediatric Dental Club, Hispanic Dental Association, American Student Dental Association;
Employee at: Hardin Library, Hart Family Dentistry, and Rover dog sitting since 2018 🙂
Future Plans
Moving to the Phoenix, AZ area to work as a dentist!
What Kayla Enjoyed about Hardin Library
I loved working at Hardin the past 3 years! There isn't a better place of employment than where I was spending nearly all my free time anyway 😉 The staff and my co-workers have been nothing short of wonderful. They will be missed!