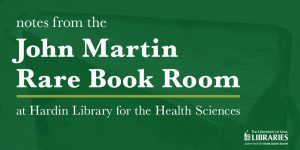 GALENUS (ca. 130-ca. 200). De ossibus. Lyons: Apud Guliel. Rouillium, 1549.

Next to Hippocrates, Galen was the most noted physician of antiquity. Born in Pergamon (present day Bergama, Turkey), he received his formal medical education in Smyrna, after which he traveled widely in Asia Minor and to Alexandria to extend his medical knowledge.
Galen settled in Rome where he carried on a large practice, attracting patients from all over the empire. His influence was enormous, and for centuries his writings were accepted as authoritative by Greek, Roman, and Arabic physicians, reaching a zenith in the Middle Ages.
Galen influenced the development of various scientific disciplines, including anatomy, physiology, pathology, pharmacology, and neurology, as well as philosophy and logic. Galen had done little dissection except on animals but he mentions having studied an
actual human skeleton in Alexandria.
You may view this book in the John Martin Rare Book Room, Hardin Library for the Health Sciences. Make a gift to the Hardin Library for the Health Sciences by donating online or setting up a recurring gift with The University of Iowa Center for Advancement.