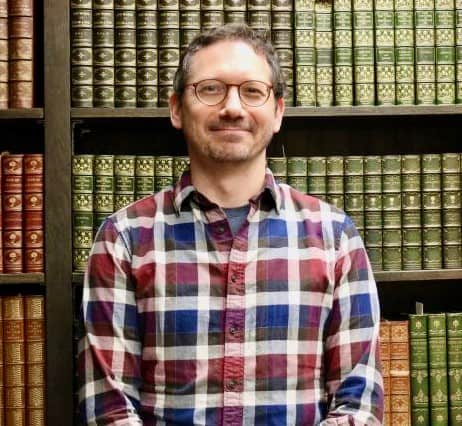 Hardin Library for the Health Sciences is happy to welcome Damien Ihrig to the Hardin staff! He comes to the library as the Curator for the John Martin Rare Book Room and has a long history of working in higher education, including medical education.
Damien recently completed his Master's in Library Science from the University of Iowa, but previously worked in the UI Colleges of Education and Medicine, most recently as the Registrar in the Office of Student Affairs and Curriculum. He also completed a Certificate in Book Studies from the UI Center for the Book, focusing on the materiality of special and archival collections. Damian is excited to be working with such a distinguished collection at the John Martin Rare Book Room, tackling health science users' reference questions, and helping out the Hardin team.
Currently, his free time is spent enjoying quarantine his wife, two children, and new puppy. His other interests include running, hiking, biking, games and puzzles, and of course, reading.