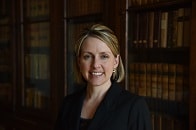 Heather Healy, MA, MLS, AHIP was appointed a distinguished member of the Academy of Health Information Professionals (AHIP) in May.
The Academy of Health Information Professionals is a professional development and career recognition program of the Medical Library Association (MLA). The AHIP portfolio-based certification indicates that Healy's peers in the field of health sciences librarianship have certified that she has met a standard of professional education, experience, and accomplishment and demonstrated that she is committed to career development. AHIP Distinguished, the highest of four levels, requires a minimum of 10 years of full-time professional work experience as well as a significant number of professional accomplishments over the prior five years.
Healy has served since March as Chair of MLA's Systematic Review Services Specialization Workgroup—which develops and maintains the Systematic Review Services Specialization—and in June received an official one-year appointment as Chair. Healy also serves on the Executive Board of the Midwest Chapter of the Medical Library Association as the chapter's Representative to the MLA Chapter Council.