by Damien Ihrig, curator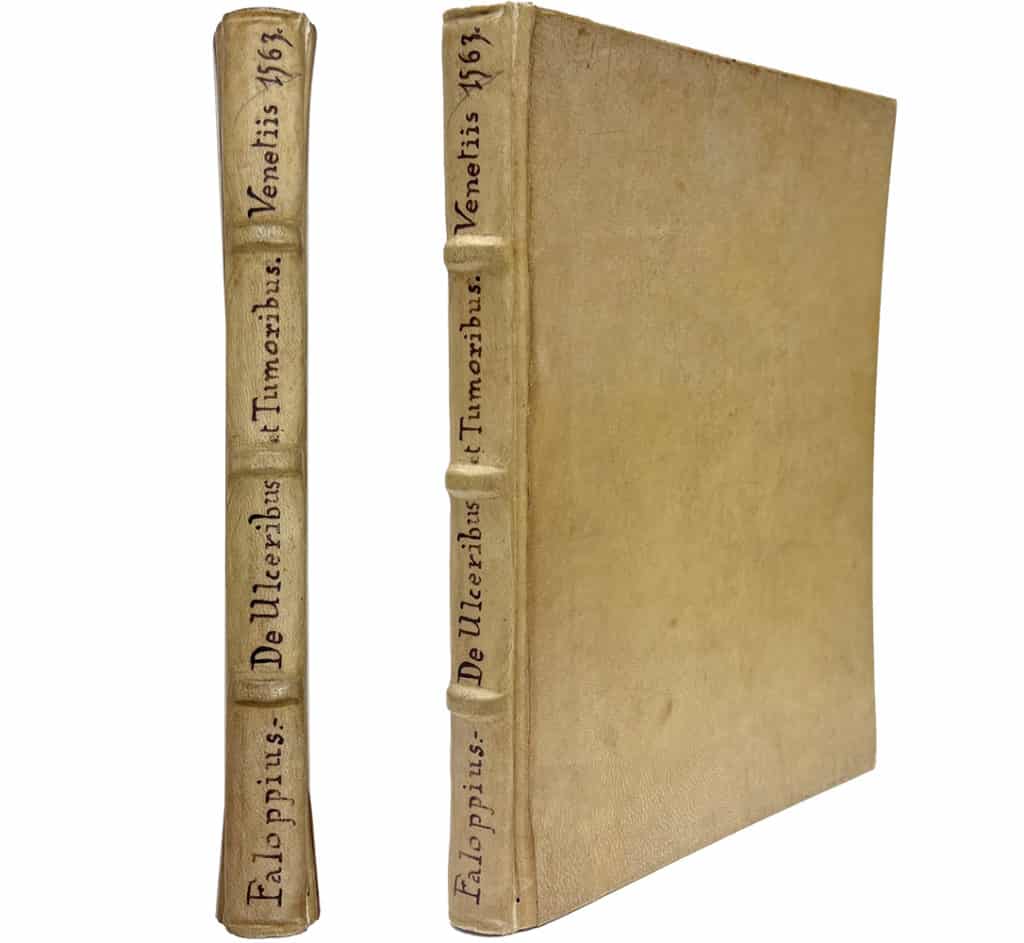 FALLOPIUS, GABRIEL (1523-1562). Libelli duo, alter de ulceribus: alter de tumoribus praeter naturam [Two pamphlets, one on ulcers: the other on unnatural tumors]. Printed in Venice by Donato Bertelli, 1563. 101 pages. 21 cm tall.
Fallopius was born in 1523 in Modena, Italy, to a lower noble family. The death of his father and financial troubles forced him into the priesthood before he could finish his university studies. This was an inherited position in his family and there is some question as to whether or not he actually practiced. He turned to performing surgery to help earn money, although indications are he did not enjoy it.
By 1545, Fallopius was enrolled at the University of Ferrara, studying medicine at one of the best medical schools in Europe. Reading about Fallopius is a bit like playing six degrees of separation. Except, instead of involving Kevin Bacon (an award to anyone connecting Fallopius and Kevin Bacon in six steps or less!), it connects all the major physicians and surgeons of the 16th and 17th centuries.
He studied with, worked with, taught, and inspired many well-known physicians during and after his life. At Ferrara, he worked most closely with the famous Italian physician Antonio Musa Brasavola. You may remember Brasavola from Dr. Jonathan Reeder's presentation this past October.
Fallopius eventually moved to the University of Pisa to complete his medical education. Upon completing his studies, he stayed on as a lecturer at Pisa. He also continued to study with other masters, including Giovanni Battista Da Monte (aka Johannes Baptista Montanus) and Matteo Realdo Colombo at the University of Padua.
He is often referred to as a pupil of Vesalius, also at Padua. Although a friend and colleague of Vesalius, it is not believed he was a literal pupil of the famous anatomist. This can be traced to a misinterpreted translation of Fallopius in which he stated he was "a student of Vesalius."
He eventually succeeded Colombo as the Chair of Anatomy, Surgery, and Botony at Padua. Colombo had previously replaced Vesalius while he was away in Basil, overseeing the publication of the Fabrica.
Fallopius's Observationes anatomicae, a modest work funded with his own money and without illustrations, attempted to correct the Fabrica based on Fallopius's own observations during dissections. Vesalius did not take kindly to this and attempted to publicly discredit his friend. He was ultimately unsuccessful.
Fallopius was a revered professor and lecturer who inspired his many students to continue to challenge the status quo through direct observation. Many of his works, including the one highlighted in this newsletter, were published by his students after his death in 1562.
Libelli duo… is a treatise on diseases of the skin, focusing on ulcers and tumors. It is one of the most thorough works of its kind up to the time of its publication.
Fallopius not only describes the illnesses and their various presentations but also innovations in treatment. He suggests new techniques for the cauterization of ulcers and the removal of tumors.
The book shows many interesting material and bibliographical elements. It is covered with a limp vellum, aged to a warm yellow with no major damage. It has been rebacked, though, with new vellum and a carefully hand-lettered spine title.
The first leaf of the book looks like it was meant to be canceled (replaced with a corrected leaf), but instead, the new leaf was added and the old leaf was retained. This is somewhat unusual and very handy for folks studying the creation of this particular edition and book production, in general, at that time.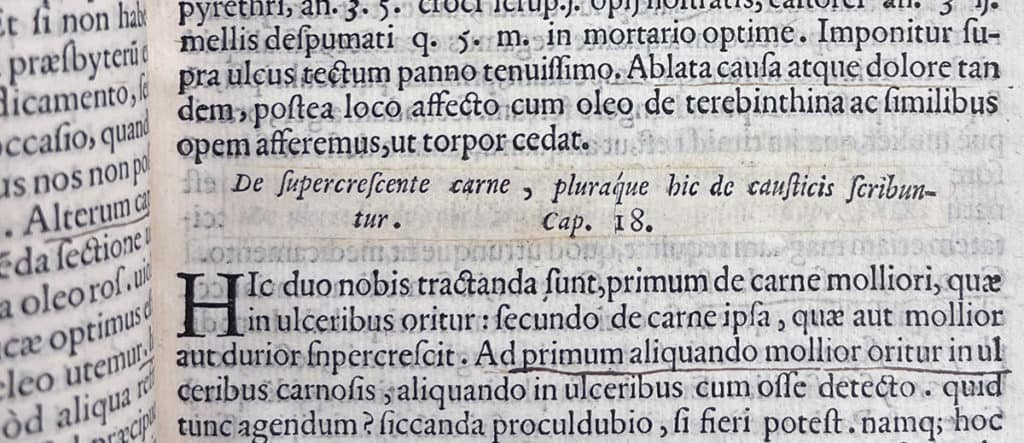 The book is broken into chapters, several for each main topic. Chapter 18 of the ulcers topic was corrected by pasting a new chapter heading over the old one. Unlike the canceled first leaf, though, this is not unique to this volume. The new chapter 18 heading can be seen in multiple digitized copies.
Interestingly, the chapter headings use an inconsistent mix of Roman and Arabic numerals. For example, chapter 18 above uses Arabic numerals, but chapter 17 uses Roman. The two section headings (three in our edition because of the canceled leaf) use delightfully illustrated initials showing classic scenes.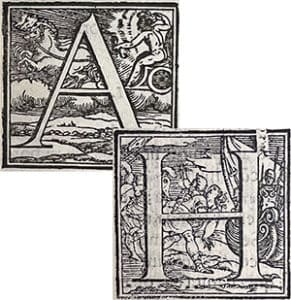 Finally, the book has clearly been well cared for. It is in great condition and filled with marginal notes by a careful reader. It is another great example of these beautiful artifacts that combine the history of medicine, early book production, readership, and conservation practices!
Contact Damien Ihrig to view this book or any others from this or past newsletters: damien-ihrig@uiowa.edu or 319-335-9154 to arrange a visit in person or over Zoom.
Read more about Fallopis, credited for inventing the condom in the Friends of the John Martie Rare Book Room Newsletter, Volume 4, Issue 1, January 2023.