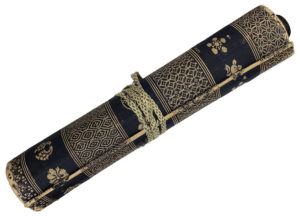 Full newsletter including more information about Japanese scrolls and additional images.
UNKNOWN. Medicinal plants scroll from Japan's mid-Edo period. Estimated date of creation is between 1727 and 1800. 29 x 800 cm.
English translation available.
The Medicinal plants scroll is, as its name suggests, a catalog of native Japanese plants, describing their habitats, flowers, fruits, and medicinal uses. Each brief description is accompanied by a handpainted illustration of the plant, usually in bloom.
Thanks to the generosity and hard work of Tsuyoshi Harada, our Japanese Studies Librarian, we have a detailed English translation of the scroll.
Due to Harada's efforts, we have identified each plant, including Cyrtosia septentrionalis, also called Yamashakujo or Tuchiakebi, and Panax japonicus, or Japanese Ginseng. Unlike traditional ginseng, this guide recommends avoiding the very bitter root of P. japonicus and instead using the root hairs.
The scroll also includes references to other medicinal plant resources available at the time. We are excited to see if we can locate any of these as well.
The scroll is in excellent condition. There is very minor staining here and there, but the original paper is otherwise spotless. It has been rebacked fairly recently with a modern paper containing gold flecks. Replacing the paper support on the back as the scroll ages is a customary practice. Emakimono are not made from a continuous roll of paper, but rather equally sized sheets that have been cleverly glued together, combining long fibers that extend out each side of the sheets. The layers of backing paper then add support and durability.
If you are interested in seeing this or other items mentioned in this or earlier newsletters, please contact Curator Damien Ihrig at damien-ihrig@uiowa.edu or 319-335-9154 to arrange a visit in person or over Zoom.
This purchase was made possible by the generosity and foresight of Dr. John Martin to support the collection with an acquisitions endowment.