Hardin Library now has a subscription to GIBLIB, an on-demand video medical education platform that features lectures, discussions, surgical procedures, and more from physicians and other experts at institutions including the Mayo Clinic, Cleveland Clinic, and UCSF. All videos include transcripts in English and many include transcripts in other languages.
GIBLIB is available through the library's A-Z resource list and off-campus access requires logging in with your Iowa HawkID and password. Once in GIBLIB, you can set up a personal log-in, although one is not required to watch videos. Setting up a personal log-in allows you to save videos, make playlists, and take notes while watching a video.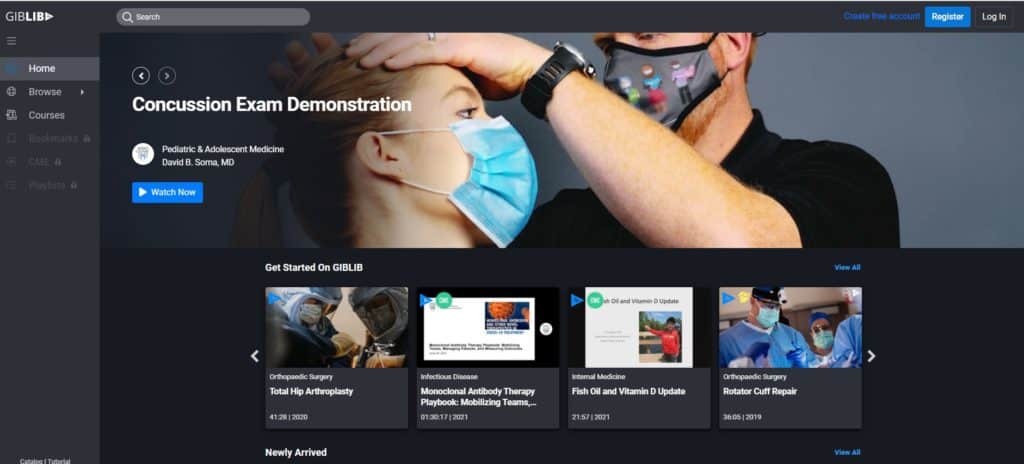 To find videos, you can use the GIBLIB search bar or use the browse feature. If you set up a personal log-in, GIBLIB will suggest videos to you based on your profile. GIBLIB also offers "Courses," which are collections of videos on a topic. Although CME is offered to personal subscribers, be aware that the library's subscription does not include CME credits.
Selected New Content:
Concussion exam demo
Telemedicine musculoskeletal exam demonstration
Left unlinked elbow arthroplasty
Hypertension in pregnancy
Hyperlipidemia: updated guidelines
Long-term pulmonary complications after COVID-19
Physical therapy for post exertional malaise
Hardin Library is the first library to subscribe to GIBLIB. Please send comments to Director Janna Lawrence.