Hardin Library and The National Network of Libraries of Medicine/Greater Midwest Region staff have been staying busy at home during the pandemic when they are not working.
Jacqueline Leskovec went from only knowing how to adjust bike brakes to rebuilding her "perfect" bike–a 1994 Specialized Rockhopper mountain bike.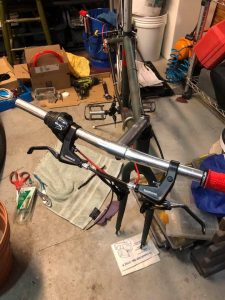 Main points:
Painting. I used standard rust-proofing spray paint. There's a more expensive bike-specific spray paint, but I wasn't sure where I was going with this. Maybe next time.
Misc parts. New handle bar grips, changed gears from 3×7 to a 1×7, meaning the front chain ring has only one speed. Changed the type of brakes and as a result needed to get a guide to keep the cables from scraping the frame.
You tube. You tube has been my friend! I learned how to true the wheels with the use of zip ties to guide where to tighten and loosen the spokes.
Bike shops. Found a really good shop that helped me resolve bottom bracket issues. Apparently the sizes used in the last millennium don't necessarily mean the same thing in 2020. They were kind enough to send me three bottom brackets and said I could return what didn't fit.
Old vs. new. I cleaned up and painted a lot of parts, including the handle bars and head set.
Beauty. I didn't want to make it too pretty to be a thief magnet, but I think it turned out pretty good.
Helen Spielbauer purchased a home in Iowa City, and now that the remodeling is complete, she has started gardening.
Damien Ihrig and his family adopted a foster puppy in April from a closed animal shelter in Cedar Rapids.
Name: Petunia (chosen for all the nickname opportunities!)
Breed: mutt – more than likely some kind of husky and German Shepard mix
She was found as a stray, but is still a puppy. They estimate she just turned one. She is very smart, which has helped tremendously with training (e.g., she rings a bell to go outside). We're trying harder to socialize her with other dogs in the neighborhood because she gets very excited when she sees or hears them outside. She likes to very loudly "talk" to them, which is a very husky-like trait. She has been a wonderful addition to our family and a loveable distraction during our quarantine!
Heather Healy has tried new recipes, including cranberry pie from this recipe: https://barefeetinthekitchen.com/christmas-cranberry-pie-recipe/