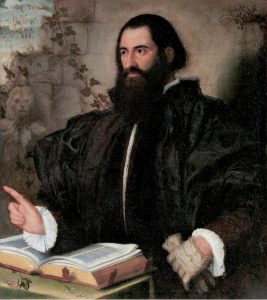 PIETRO ANDREA MATTIOLI (1500-1577) Commentarii, in libros sex Pedacii Dioscoridis Anazarbei, Demedica materia. In officina Erasmiana; Apud Vincentium Valgrisium 1554 [48] 707 [1] pp., illus. 31.5 cm.
Mattioli of Siena studied medicine at Padua where he graduated in 1523. During his career, he practiced at Siena, Perugia, Rome, Trent, and Gorizia. Mattioli was physician to Ferdinand I and later Maximilian II. He wrote books on syphilis, the practice of medicine, and therapeutics, but his best-known and most popular work was Comentarii.
Mattioli first published his commentary on Dioscorides in Italian at Venice in 1544 and this is his first Latin commentary and also the earliest edition to contain information on botanical specimens from the Americas, Asia, and Africa. He prepared what many authorities now regard as the encyclopedia of Renaissance pharmacology. Mattioli studied hundreds of plants, examined and described them fully, added many new species, and provided excellent illustrations which were far superior to those of any previous work in the field.

By Unknown – Pietro Andrea Mattioli. Commentarii, in libros sex Pedacii Dioscoridis Anazarbei, de medica materia. Adiectis quàm plurimis plantarum et animalium imaginibus, eodem authore. Vincentius Valgrisi, Venedig, Public Domain, Link