Medical historian Shelley McKellar will speak on Artificial Hearts: A Controversial Medical Technology and its Sensational Patient Cases at the 2019 R. Palmer Howard Dinner.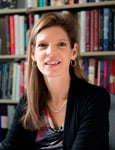 Location: Radisson Hotel, Coralville, Iowa
Date: Friday, April 5, 2019
Reception 6pm with cash bar, Dinner at 7pm, Presentation at 8pm
Registration and prepayment (check or credit card) required by March 29, 2019. Printable registration form
Today, artificial hearts are a clinical reality after decades of contentious development. Former US Vice President Dick Cheney stated that the technology "saved his life" in 2010, but not all patients enjoyed such successful outcomes. Dr. McKellar examines the clinical use of artificial hearts since the 1960's, situating the triumphant narrative of this technology and it's "resurrectionist capacity" along side technical device challenges and difficult patient experiences. The appeal was the promissory nature of artificial hearts as a life-sustaining treatment, but it was (and is) and imperfect and controversial technology.