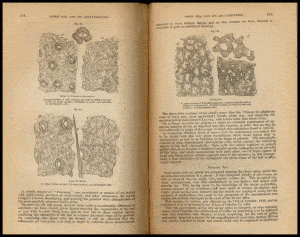 ARTHUR HILL HASSALL (1817-1894). Food and its adulterations. London: Longman, Brown, Green, and Longmans, 1855.
Hassall studied medicine as his uncle's apprentice in Dublin and later
returned to England where he received a diploma from the Royal College of Surgeons in 1839 and an M.D. from the University of London in 1851.
An individual of many scientific interests, he earlier published the first English textbook on microscopic anatomy–Microscopic anatomy of the human body. The John Martin Rare Book holds both an 1849 and 1851 version of this title. Hassall then began to work in the field of public health, publishing a pamphlet title A microscopial examination of the water supplied to the inhabitants of London and the surburban districts, which helped implement water reform.
Poor health forced him to abandon his general practice and he turned to analytical chemistry. His communication to the Botanical Society concerning the adulteration of coffee soon brought him to the attention of the Analytical Sanitary Commission of Lancet and later the post of chief analyst of the commission. The work of this commission, established by Lancet, eventually resulted in legislation to curb the rampant adulteration of foodstuffs then prevalent in England.
Representing an immense amount of analytical work, he reported on nearly 2500 samples of foods, beverages, and tobacco products, providing detailed analyses and illustrations of his findings as well as identification of the sample's vendor or manufacturer. Hassall's work was so accurate that only one legal action was threatened but that was later dropped.