It's that time of year again. The weather is hot, so a lot of us are staying inside and working on our ICON sites for the upcoming semester.
It has been brought to our attention that ICON is having some problems with creating links to library articles if they are set up to "open in a new window" when they have the proxy URL attached.  The proxy URL is what allows University of Iowa affiliates to access library resources from off-campus. This includes things like full-text articles.  The articles appear to open with no problems in the instructor's view, but when you switch to the student view problems arise. These problems are different depending on if you are using Firefox or Internet Explorer.  Hopefully, this issue will be resolved quickly as ITS is working on it, but in the meanwhile, we have found that making sure the article links are set to "open in the same window" solves the problem.  In the image below, I've pointed out the box to avoid using.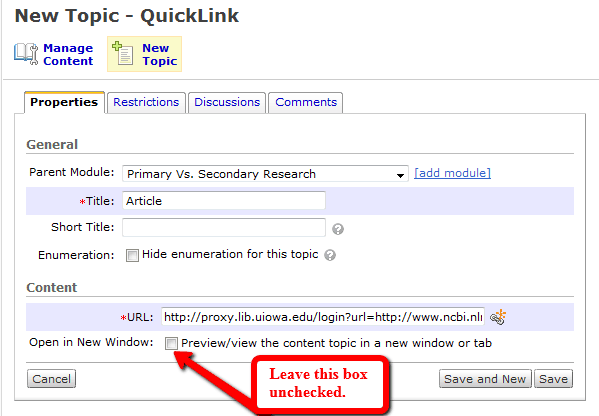 You might be tempted to work around this issue by uploading the PDF of the articles you want your students to read instead of using links. Please do not do this as it could be a violation of the copyright agreements we hold with different publishers.
If you would like more information on the best ways to link to full-text articles on ICON, check out our "Linking to Full Text-Articles for Course Pages" guide.