JOHANNES DRYANDER (ca. 1500-1560). Anatomiae. Marburg: Apud Eucharium Ceruicornum, 1537.
Dryander (also known as Eichmann), professor of surgery at Marburg, was a friend of Vesalius and among the first anatomists who made illustrations after their own dissections.
This Anatomiae appeared six years before Vesalius' great work. This was the first significant book on the anatomy of the head and contains 20 full-page woodcuts made from Dryander's own dissections.
Sixteen of the plates are of the head and brain and were done to show successive stages of dissection. The first eleven plates appeared earlier in his Anatomia capitis humani (1536) and the remaining four plates of the chest and lungs were added as an appendix.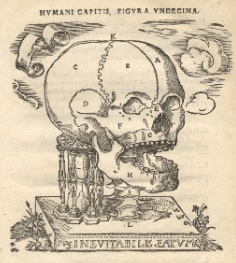 You may view this book in the John Martin Rare Book Room, Hardin Library for the Health Sciences.  Make a gift to the Hardin Library for the Health Sciences by donating online or setting up a recurring gift with The University of Iowa Foundation.