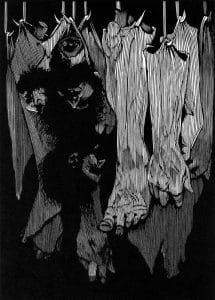 In conjunction with the John Martin Rare Book Room Open House, Peter Balestrieri, Science Fiction and Popular Culture Curator, University of Iowa Libraries, will be giving a talk on curating Frankenstein at The Hardin Library conference room 401, on Thursday, March 22 from 4-5pm.  After the talk, you may view parts of our collections at the John Martin Rare Book Room Open House at Hardin Library.
As we celebrate the 200th anniversary of the publication of Mary Shelley's, Frankenstein, it is gratifying to see the wealth of material in University of Iowa Main Library's Special Collections relating to the creation, publication, and legacy of the book.
Some examples from Iowa's collection are Shelley letters, a first edi
tion of John Polidori's, The Vampyre, a letter and an "angry father" essay by Mary Shelley's father, William Godwin.  The collection also includes the autobiography of Frankenstein's publisher, Lackington, and a number of fine press editions of the novel with illustrations by Barry Moser and others.  In this talk, Balestrieri will highlight these and other holdings and relate some anecdotes that surround what many critics believe to be the first science fiction novel.