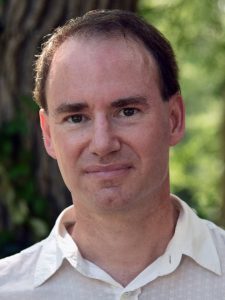 Mirko von Elstermann began working at Hardin Library for the Health Sciences on May 31, 2017 as the Biomedical Sciences Librarian.
Mirko von Elstermann grew up in Western Germany's Cologne area.  Before moving to Iowa he was living in Lima, Peru with his Peruvian wife and their baby daughter.
Mirko earned an M.A. in Philosophy and an M.Sc. in Biology from the University of Cologne.  In 2006 he graduated with a Ph.D. in Physiology; his thesis was about the formation of a breast-cancer cell specific carbohydrate antigen.
From 2006 to 2009 Mirko worked as an editor at Nature Publishing Group (London, UK) and for a short time at Wiley-VCH (Weinheim, Germany).  Until 2011 he was the subject librarian for molecular biology and medicine at Basel University Library/Basel University Hospital in Switzerland, where he also studied library and information sciences.  In his LIS master's thesis he discussed services and resources of a biomedical library in the future.  Next, Mirko worked as a specialist librarian at The University of Veterinary Medicine (Hanover, Germany).
Later he moved to Lima (Peru) where he worked as a freelance editor, translator, and biomedical information provider.  During these years he also had a stint as the biosciences information librarian and managing editor of a medical education platform–Innovations in Global Health Professions Education--at Weill Cornell Medicine in Doha (Qatar).
Mirko is Hardin's liaison to researchers and faculty of the basic sciences at the Carver College of Medicine–cell biology, biochemistry, microbiology, and molecular physiology/biophysics.  He also looks forward to supporting students of the College of Medicine's graduate programs in genetics, immunology, molecular cell biology, and free radical and radiation biology.  Mirko enjoys reaching out to students and researchers from many different areas and supporting projects from inception to publication.  For several years he has used Twitter @BiomedRevon to highlight his own biomedical reading selections.
Mirko and his family moved to Iowa City in May, 2017.  As Lima had an arid climate, they particularly enjoy exploring green areas for outdoor activities.  Besides swimming and walking, Mirko enjoys literature and music.