ANDRES DE LAGUNA (1499-1560). Anatomica methodus, seu De sectione humani corporis contemplatio. Paris: Apud Ludovicum Cyaneum, 1535.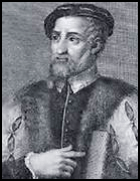 Laguna, a native of Segovia, Spain, began his education in medicine at Paris in 1532. While in Paris he published his first three books and became acquainted with Vesalius.
By 1539,  Laguna published over 30 books, many on medical botany–one of his great interests. This work is one of his earliest and was simultaneously published in Paris by Jacob Kerver.  Laguna notes in the dedication that he spent only three months preparing the work and comments that, in his view, the medical profession of his day had fallen to a very low state.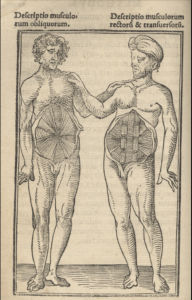 Written in a forthright manner, the book has a strong personal tone and cites few authorities but generally supports the views of Aristotle and Galen. Laguna begins his anatomy with the mouth because that is where the nutritive process is initiated and finishes with the brain where the spirits receive their complete transmutation. He cites few personal observations or autopsies and adds little to the progress of anatomy.
You may view this book in the John Martin Rare Book Room, Hardin Library for the Health Sciences.  Make a gift to the Hardin Library for the Health Sciences by donating online or setting up a recurring gift with The University of Iowa Foundation.
View a digital version of this book from Complutense University of Madrid.