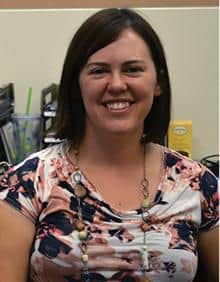 As of May 1, Elizabeth (Liz) Kiscaden is the new Associate Director for the National Network of Libraries of Medicine's (NN/LM) regional office, located at Hardin Library for the Health Sciences. This office serves the Greater Midwestern Region (GMR), comprising of a ten-state area surrounding Iowa.
In her new role, Liz will be responsible for operations and staffing and will collaborate on strategic planning for the new program office. She will be located at the GMR office on the second floor of Hardin Library, for which construction is still underway.
During her time at the University of Iowa, Liz served as the Head of Hardin Library Services and served temporarily as a Clinical Education Librarian. Prior to joining the University of Iowa, she was employed as the Library Director at Waldorf College, Forest City, Iowa and solo hospital librarian at Mercy Medical Center – North Iowa. Liz's professional experience has centered primarily on library administration and biomedical information instruction for health professionals.
Liz enjoys living in Iowa City and taking advantage of events and activities offered through the University of Iowa. In her free time, she takes her dog cruising, enjoys the outdoors and watches old martial arts movies with friends.