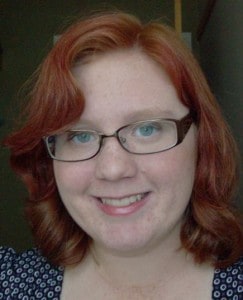 Name: Anne Price
Hometown: Columbus, NE
Undergraduate Education: University of Nebraska – Lincoln BA English '12
Graduate Education: University of Iowa, MA Library and Information Science, '14.
Future Plans: Hopefully a job working with either a museum collection or an archive. I'm also open to working in youth services at a public library.
Why I'm Working at Hardin: My interests are primarily special collections and the opportunity arose for me to work in the John Martin Rare Book Room
Favorite Part of Working at Hardin: Just seeing the daily operations it takes to keep a special collection accessible.
Fun Fact:  My great-great uncle was a third class passenger on the R.M.S. Titanic, and was among the people rescued by the R.M.S. Carpathia.
Anne works in the John Martin Rare Book Room as a Student Specialist I.