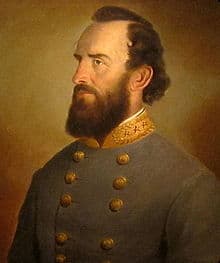 Dr. Wayne Richenbacher presented a lecture on The Demise of Stonewall Jackson at the Hardin Library on January 24, 2013.
See a video of the talk on YouTube:  http://www.youtube.com/watch?v=B5AFymfHIHU  
Thomas J. "Stonewall" Jackson, commander of the Second Corps of the Army of Northern Virginia, was wounded at the Battle of Chancellorsville during the American Civil War. He died eight days later. This talk will focus on Jackson the brilliant military strategist– Hunter Holmes McGuire the chief surgeon of Jackson's Corps–and medical care provided to Jackson following his injury.