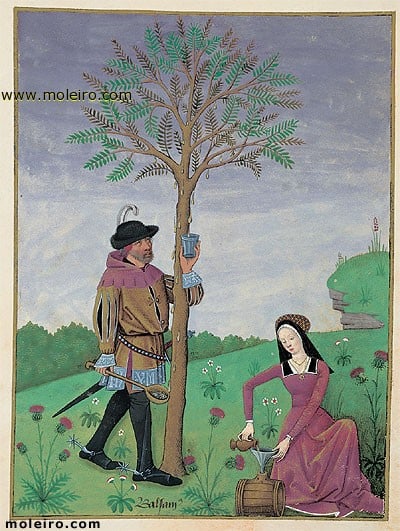 Don't forget to stop by Hardin's newest exhibit, Simple Medicines, located near the 3rd floor doors of the Hardin Library. The display on herbs and herbal medicinal treatments spotlights the work of French scholar Matthaeus Platearius (d. 1161).
The lustrous images in this exhibit have been copied from a facsimile of a remarkable manuscript published in the last part of the 15th century, Le livre des simples médecines (The book of simple medicines). The original manuscript is housed in the Russian National Library at St. Petersburg [Barcelona: M. Moleiro, 2000].
Beginning around the 11th century, European scholars began translations of ancient Greek works, using as their sources, Arabic translations that were preserved during the Middle Ages by Islamic scholars. One of the most important of these translations (De medicinis simplicibus ("On simple medicines") was completed in the mid 12th century by Matthaeus Platearius (d. 1161), a physician from Salerno, Italy, an important translation center.
Platearius' text found its way into numerous manuscripts but none as beautiful as the codex produced for Count Charles of Angoulême and his wife Louise of Savoy. Most of the text is taken from Platearius' French translation with additional material from later writers. The text includes sections on herbs and flowers, trees, metals & minerals, and animal products. It is followed by a magnificent 116 page atlas depicting "simples" – plants used in treating diseases. The striking artistry was probably the work of Robinet Testard (fl 1475–1523), the French illustrator and illuminator.
Of interest, too, are the written annotations added by two physicians who insert Latin and Greek names for many of the plants and who provide additional commentary.