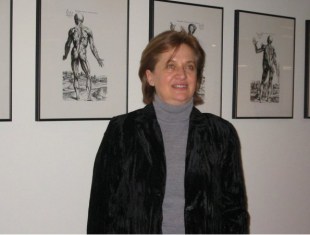 Not only is Gordana Lenert new to the Hardin Library staff, her position is also new to our team. The new position liaison for the Biomolecular Sciences, something that her past experience should definitely serve her well in. Although she has never worked at a library before, she is not new to working at universities.
After graduating from the University of Belgrade in the former Yugoslavia, Gordana majored in Molecular Biology and Physiology, and then went on to receive her Masters and Ph.D. in Allergology and Immunology from the University of Belgrade. From there she worked at the Biochemistry Department, Medical School, University of Novi Sad, where she developed her passion for working with students. She and her family moved to Canada after leaving Europe, where she worked as a medical reviewer for Health Canada. After her husband was offered a job at the University, she moved to Iowa City two years ago.
In her free time, Gordana enjoys reading, cooking, gardening and swimming, and has been a volunteer swim-referee for many years. Despite being her first month on the job, she already has major work to do, including planning the curriculum for her new liaison department.