The University of Iowa Graduate College and the UI Libraries Digital Scholarship & Publishing Studio are excited to announce that 14 graduate students have been selected for the 2019 Studio Summer Fellowship program. These individuals will soon take part in an 8-week course that provides mentored digital scholarship experience, as well as training in skills and tools they will use as they pursue innovative ways of thinking about and sharing their creative endeavors. Below you can read more about new fellows and a description of their proposed projects.
Luke Borland, PhD Student, History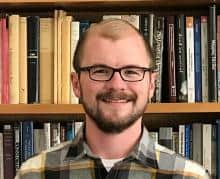 Luke Borland plans to use this fellowship to develop a framework through which to analyze the effects of New Deal programs on small communities while aiding his work to connect with the public as a historian. He wants this experience to lay the foundations of a project where community members could see see the New Deal projects that took place within their community and interact with these displays.

Sena Chae, PhD Student, Nursing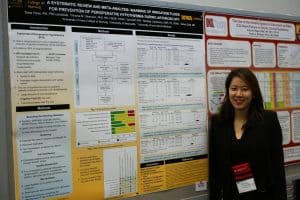 Sena Chae, PhD candidate in College of Nursing will be looking at the comparison of patient groups with different symptom cluster intensity during cancer treatment. This novel, clinical data-driven study can establish the feasibility of identifying longitudinal patterns of symptoms by cluster analysis using routinely collected clinical data.

Jeremy Dietmeier, PhD Student, Educational Psychology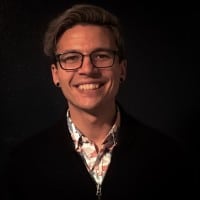 Being a PhD student in the College of Education, Jeremy Dietmeier plans to use his past experience and research to develop a web portal to accompany an Iowa Children's Museum Exhibit that supports families of diverse backgrounds to collaboratively engage and learn during their visits. He plans to continually evaluate and update the project to help make informal learning spaces more inclusive, accessible, and diverse.

Evan Fowler, DMA Student, Trumpet Performance
Evan Fowler, a DMA student in the School of Music plans to use his time this summer to create an online viewing and listening experience for his completed recording project. The project will consist of podcast interviews, blog posts on the recording process, video documentation and more.

Mac Gill, MFA Student, Literary Translation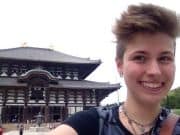 Mac Gill plans to continue work on her online pedagogy tool and reference guide for The Tale of Genji. This work will include adding visualizations to the resource and experimenting with different technology to see what fits best for visualizing words and concepts.

Sam Kahrar, MFA Student, Film & Video Production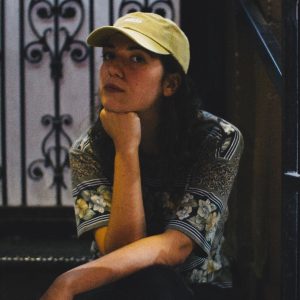 Sam Kahrar is an MFA student studying Film & Video Production in the Department of Cinematic Arts. As a Studio Fellow, she plans to immerse herself in project-specific research on honeymoons and, more broadly, representations of travel and romance in films of the late nineteenth and early twentieth century. Drawing upon media from the Libraries' collections, she plans to create a repository that illustrates how the film and tourism industries fostered a national collective yearning for exploration, which for women of the era was often only imaginable in the context of the honeymoon.

Ashley Loup, PhD Student, American Studies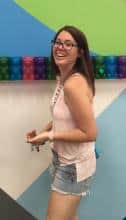 During this fellowship, Ashley Loup plans to create a project that will engage Art History, Geography, and American Studies with a database of sporting statues found in public places like stadiums, college campuses, and communities. Another goal she has for the summer is to gain more expertise in mapping programs.

Ramin Roshandel, PhD Student, Music Composition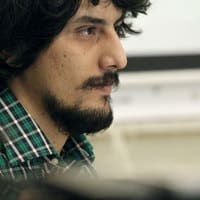 Ramin Roshandel, a PhD candidate in the School of Music plans to use his time this summer researching the structural purpose and function of ornamentation that is at the core of Iranian classical music. With this data he will create a composition written for a medium-sized ensemble made up of mixed Western instruments that will utilize Iranian microtones/modes found in his research.

Laurel Sanders, PhD Student, History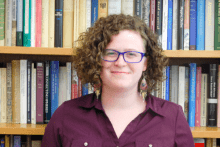 Laurel Sanders is pursuing a PhD in History, focusing on the history of public health. Her project will use public health nurses' statistical reports from Native American reservations in the 1930s. By using digital methods to study these statistics, she wants to find patterns that illuminate Native communities' and patients' health concerns, as well as the choices they made dealing with federal healthcare providers, in the early twentieth century.

Andrea Scardina, PhD Student, Religious Studies
This summer, Andrea Scardina plans to map Christian, Jewish, Arab, and Roman sources to reveal the commonalities and discrepancies among the cultural conversations on the Holy Land in the Late Antique and early Byzantine eras. She hopes that the experience will leave her with more expertise in mapping platforms.

Qianyi Shi, PhD Student, Sociology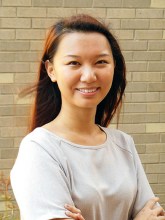 For her project, Qianyi Shi plans to examine how online voluntary associations create within- and between-group social networks that facilitate political engagement and mobilization of individuals in major political events, such as the presidential and midterm elections. With this data she will create statistical analyses and visualizations using Python and R.

Soumya Venkitakrishnan, PhD Student, Audiology
For this fellowship, Soumya Venkitakrishnan seeks to document the experiences of individuals with loss with respect to the use of over-the-counter (OTC) hearing aids versus traditional audiologist-fit hearing aids through a digital interface. Her project will consist of videos on this research, along with opinions from individuals who have used these products.

Julianna Villarosa, MFA Student, Film & Video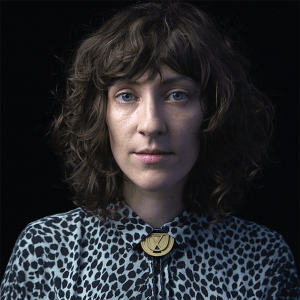 Using Google Earth Pro satellite imagery supported by narration and appropriated news footage, Julianna Villarosa plans to make a short-form documentary that follows the contentious 148-mile Trans-Pecos Pipeline. Her work will explore the myriad of environmental threats and conflicting policies at work along this path.

KaLeigh White, PhD Student, Sociology
This summer, KaLeigh White will work on visualizing the patterns of US social safety net provisions over time. Her project will use spatial analysis and visualization to better understand how variations in state social safety net benefits are shaped by the provisions in neighboring states