How long have comics been around? Do comics reflect or shape our society? What was the Comics Code Authority? How do comics build community?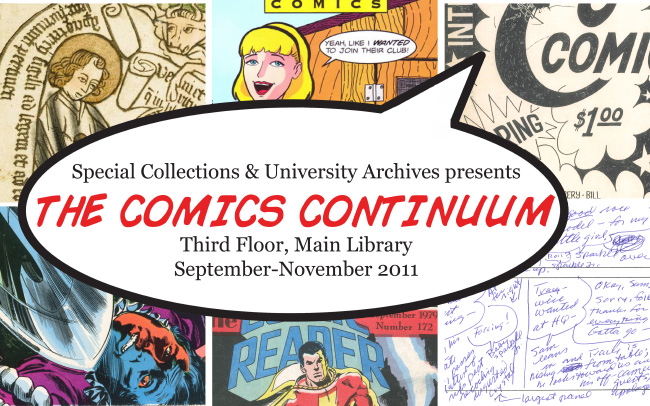 As a spinoff of the upcoming symposium on graphic language, Special Collections and University Archives presents The Comics Continuum, an exhibit from our collections available for perusal, research and teaching to the university community and beyond. Our exhibit places comics in a continuum of graphic narrative which encompasses the amateur, commercial, and the artistic, and illustrates their appropriation by countercultures, artists, fans, educators, social movements, and even the U.S. government. Besides placing in their historical context some of the mainstream icons like Wonder Woman and Captain America, the exhibit shows how comics make communities through their production, circulation, consumption and collection.
The exhibit will be open on the 3rd floor of the Main Library from the end of September through November 2011. While viewing the exhibit, please see the labels for any collection numbers (MsCs) that you may be interested in browsing. Once you are done with the exhibit, we encourage you to move beyond the glass cases, come in Special Collections, and request to look at some of our comics collections in the Reading Room.
For more on our specific collections of comics and graphic narrative art, see
http://www.lib.uiowa.edu/spec-coll/resources/guides/ComicBookCollections.html
For our Reading Room policies, see
http://www.lib.uiowa.edu/sc/services/readingroom